Nollywood mothers:'I cried and cried in the labour room'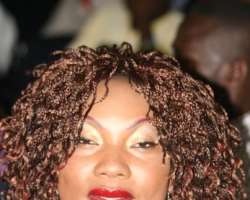 Ever heard of the saying that when a child is born so is the mother? But is it true for celebrity women? Four actresses spoke with Samuel Olatunji on how they cope with Nollywood and Motherhood.
I screamed and screamed in the labour room –Doris
How does it feel to be a mother?
It feels great. I am privileged to be a mother.
How do you joggle work and motherhood?
It's not easy but I thank God for the kind of family I have, especially my husband for understanding and supporting me . He helps out a lot of times, he is supportive. He is always helping, he helps to change diapers and all of that.
What's the best advice you got from your mum?
Don't forget the kind of home you come from is the best advice I got from my mother.
What's your son like?
He's a blessing from God.
Is he naughty?
Every child has his or her own way of being naughty. He is very active, he is a wonderful boy.
How old is he?
He will be two today
When are you adding another one?
You'll get to know.
What was your labour experience like?
It wasn't easy. I screamed. I then knew what mothers go through. I wish my mother was alive, because after that experience I vowed not to disrespect mothers again.
Was your husband in the labour room?
Yes, he was all through.
I had both kids through Caesarian Section –Foluke

What does it feel like being a mother?
There is no better feeling than being a mother. Being responsible for your children and family.
What has motherhood taught you?
To be more responsible and mature, It makes me watch the things that I do as I see myself as a role model for my children.
What's it like joggling motherhood and Nollywood
My kids come first in all that I do. I create time know them, and make them emotionally stable.
Do they watch your movies?
Yes, even as young as they are. Though when I play a tragic role, they are scared. My daughter loves it though. She tells whoever cares to listen that her mum is Foluke Daramola, the actress.
How was your labour experience?
It was the most painful though bitter sweet because the end product makes you forget the pain. Though I had both kids through CS it was still painful. The pain was worth the while.
What did your mum teach you about motherhood?
To always be a pillar of support for my children.
What is your dream for your children?
To see my children become bigwigs in whatever career they choose .
What is your memorable experience with your children?
The first time they realized their mother is an actress; they were happy and that was a memorable experience for me.
What kind of children do you have?
My daughter is very loving, caring and emotional. My son is not an emotional person but very caring for his age.
My daughters wear my shoes and earrings –Stella
Daughters and mothers people say are not the best of friends. What's your reaction?
No. I'll prove them wrong. My daughters and I are best of friends. We are always together and there is nothing they don't tell me and there is nothing I don't tell them. I don't hide anything from them.
Do they try your slippers on?
Oh yeah, they wear my shoes and my earrings. I do their make-up, I even have their pictures. My first daughter is growing so fast now and wearing my blouses.
How old is she now?
She's ten.
And the blouse fits her?
Yes.
What's the best advice you got from your mum?
They are very many. She always told me to believe in myself and that I should not let anybody or the society decide who I am.
What's the best advice you've given your children?
Same thing. That's the first thing I tell them everyday. I always tell them don't let anybody make you feel bad. You are who you are for a reason; you are special.
Women are packaged to handle motherhood –Eucharia Anunobi
How does it feel to be a mother?
Every woman is complete when she has a child because it brings out the compassion in you. It is a wonderful feeling. And since it is one of the commandments of God, it is a wonderful feeling to know that I am fulfilling the will of God. It is wonderful to know that I have a child that I am looking after and whom I am responsible to. It is a lot of responsibility that you are preparing somebody for the future.
How do you balance motherhood and Nollywood?
I would like to say first and foremost that mothers have been divinely equipped for multi-tasks. Women have been packaged by nature to handle such. I do not find it to challenging because I have been packaged by nature to be like that.
Having said that, it is not easy especially with my kind of job; though there is some kind of freedom since you are not always on set everyday. Again, as Nollywood actor, I have a lot of people who help me look after my child. I also invest in a lot of recharge cards to know what is going on at home. God knows I'll be a mother. That is why he gave me a job that I can joggle the two together.
By Samuel Olatunji
Story by nollywoodgists.com