TIME FOR OGUN AND AMADIOHA TO PRAY AT THE VILLA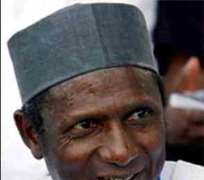 When Nobel laureate, Prof. Wole Soyinka, said that he would write an application so that the priests of Ogun and Orisa would be allowed to visit ailing President Umaru Yar'Adua, many people would have had a fulfilling laughter. But on a second thought, why not? The only problem is that both Ogun and Orisa priests will pray in Yoruba 'tongue.' Being heterogeneous in nature, some ethnic groups in Nigeria would be accused of not caring about Mr. President's wellbeing. So, a renowned figure in Igboland should write an application so that the priests of Amadioha and Ogwugwu would be allowed to visit and also pray for the president.
Now that it is evident that there is need for fervent prayers, every ethnic group should prepare for a 'praying' visit to Nigeria's seat of power - Aso Villa. Those who are not invited should apply so that collectively, Nigerians can 'pray' our president back to good health.
In what is fast becoming the most interesting reality show of the year, the Villa where President Yar'Adua supposedly resides, is now a spiritual tourism site for some clerics. The first set of religious leaders who went on pilgrimage to the Villa to see the president whom nobody has neither seen nor managed to capture on tape were top Moslem clerics. The four of them made the quick visit to Aso Rock and spent enough time to ascertain that Yar'Adua is, at least, alive and well.
The President of the Supreme Council of Sharia in Nigeria, Dr. Datti Ahmed said they met the President around 5.00pm. Ahmed says contrary to the story people have been peddling around that the president is almost dead, Yar'Adua 'is only sick.'
The way he said it, one would think that Yar'Adua's was afflicted by a mere headache that only began yesterday. One may even begin to believe that Yar'Adua's illness has nothing to do with the fact that it affects his ability to successfully govern Nigeria. After all, shook their hands and was sitting down calmly. With that, he didn't need a medical certificate to be sure that Yar'Adua is well. He admits the man is sick because he has lost weight though. Well, a photograph would have been an evidence of this encounter, but Nigerians know better than to expect one.
They prayed for him and without a word but the movement of his lips, Yar'Adua prayed along with them.
After that encounter with the president, Ahmed had some words for Nigerians: 'I wish to warn that there is need for people to be careful in the utterances being made about incapacitation, taking the presidential authority and giving such to other persons.
'Some people have to reflect before they stage a civilian coup against him. President Yar'Adua has a deputy who can act for him while he is not there. He knows that he is alive and is only unwell at this point in time.
'However, nobody should take over his position because he is not available. The president still has a good chance of recovery. Nobody should take over his post and create problems for the country. Those who are thinking of doing that are playing with fire.
'I will suggest that Dr. Jonathan continues to act as president till Yar'Adua is fit enough to resume. If he does not get well by 2011, election will take place and another person will emerge through a democratic process.
'But if any person attempts to seize that presidential authority now, the consequences will remain with the country for a long time. It will not be a wise decision and not in the interest of even younger generations of Nigerians,' he said.
One thing about the encounter is that the accounts given by each party differed somewhat. One person said they spent up to two hours while another said it was over in ten minutes. Anyway, their stories didn't exactly tally and while the public was still wondering why the sickness of the president which has been politicised and ethnicised is now being 'religionised,' another group went on pilgrimage to the coveted villa. This time, it was Christian leaders who were to pay the president a 'praying' visit.
Here, the story gets a bit knotty. The Roman Catholic Archbishop of Abuja and the President of the Christian Association of Nigeria, John Onaiyekan; Bishop David Oyedepo of Living Faith World Outreach; the erstwhile Aso Rock Chaplain, Prof. Yusuf Obaje; and Emmanuel Kure of Throne Room Trust Ministry, Kaduna, were the visitors to the president.
Apart from Kure who has been most vociferous in stating that he saw Yar'Adua, the other pastors were a bit reticent in disclosing their experience. Kure said they prayed for Yar'Adua and even though not a Christian, the president grunted an 'Amen.' In another interview, this time on TV, Kure was quoted to have said that he supposed that the person who grunted 'Amen' had to be Yar'Adua because their eyes were shut while they were praying. 'My eyes were closed when we prayed and I heard so many 'Amens.' Maybe his was one of them,' he said.
Up till now, the other pastors have not said anything. The feelers from Oyedepo's church at first was that he was not part of the delegation and other 'mega pastors' like Enoch Adeboye and others couldn't make the trip due to logistics reasons. However, Oyedepo later confirmed he was at the Aso Villa with co-workers in the vineyard but would not disclose what transpired at the meeting with Yar'Adua. According to him, it is a personal matter. The man of God is entitled to his opinion and some Nigerians feel he has the right to remain silent on the matter, especially if they have given their words not to talk about it. A man's word should be his bond, some mischievous citizens said.
What one can deduce from this whole drama is that it is beginning to take a dangerous dimension. Knowing how sanctimonious we are, this latest card is obviously being played by the Yar'Adua camp because they believe that Nigerians will fall for it.
Unfortunately, people are asking questions. There is something wrong about this pilgrimage to the power house in Abuja that doesn't include at least one minute recording of event or even a photograph. The only thing one has to rely on is the word of men of God.
The last has certainly not been heard of the prayer warriors' pilgrimages to Aso Villa.