Soyinka: Between Creativity And Platitudes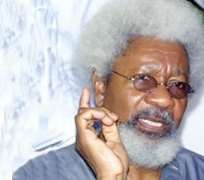 The last time I had the 'privilege' to write about Professor Wole Soyinka was about two years ago at the heat of the quarrel between outgoing President Goodluck Jonathan and the equally exiting Governor of Rivers state, Mr. Rotimi Amaechi. Professor Soyinka had unashamedly taken sides with Rotimi to the extent that the rumour was rife that the Professor was a PR consultant to the governor.
My worry was not with the PR thing for a Nobel Laureate since in Nigeria our elders go for jobs meant for their grand children; that is assuming that the PR job rumour was true. My concern was that Soyinka took sides instead of playing an arbiter to reconcile the two kinsmen. In my Monday column then in the Daily Newswatch, I tried to contrast Prof. Soyinka's actions and utterances to what would happen if my mother, who, like Soyinka is 81 years old this year, would prefer to take sides if a misunderstanding arose between my siblings and I. I tried to picture that if the likes of Soyinka would borrow a leaf from my mother, who was a mere school teacher, then Nigeria could become a far better place.
Mama got me quite earlier, in fact when she was 25 years old and while I was growing up, I never saw her take sides even as a young woman. I then reasoned that at 79 – which was the age she was two years ago like Professor Soyinka, – Mama is a symbol of peace in our family. That year, Dr. Goodluck Jonathan was 56 years old, 23 years younger than the Professor. Amaechi himself turned 50 only last year; so that the average age between the two puts the Prof. 26 years above them.
A fellow who rejoined the article pointed out to me that I was talking about the ideal; that the thing that brought Soyinka to the level he was playing was politics and not cultural maturity. Which brings me to the main issue of today; which that Nigerians and its keen watchers have come to know the literary specialist more for political gimmickry than the realm that brought him fame.
By 1986 when Professor Soyinka bagged the Nobel Prize for literature, he was 52 years old, the same age with my mother then. I learnt that the Nobel is not an end itself. I learnt that one of the reasons it is given out is to encourage winners to do more work in the area they excelled and which qualified them for the coveted price. I learnt also that many Nobels in other parts of the world even after the prize went ahead to invent things that made their earlier accomplishments look little. But not so for our own W.S. Since after the Nobel, Soyinka became enamored with politics. The first demystification of his Nobel was when he accepted to be the pioneer chairman of the Federal Road Safety Commission in 1988, just few years after the Nobel. I did a story in the then Financial Post magazine which showed that the area the military boys drafted him was quite strange for him. Coming just a few years after he bagged the Nobel, it couldn't be that Kongi was out for a job. It was just a way the chaps wanted to make him look ordinary. Professor Soyinka left that job certainly not as invincible as the Nobel probably made him; though he was luckier than the late sage, Tai Solarin, who fell into the trap set for him (they) by the military chaps and got thoroughly messed up.
Needless to say, Professor Soyinka is not new in playing in the murky waters of politics. Regardless of his fabled ebullience, Soyinka is one professor who doesn't mind delving into mundane issues in a manner that even less lettered fellows would scoff at. Of course, by 2013 when he reportedly got the PR job from cash loaded Amaechi, he had gotten used to the language of politicians, their antics and tricks, to the extent that very few Nigerians of my age can remember that he bagged a Nobel prize for literature. Pray, are there any literature books by Soyinka that is being read today by Nigerians born after 1986? I wait to be better informed by my critics or Soyinka apologists who will certainly take me on.
It was perhaps out of frustration that the radical lawyer, Festus Keyamo had to sometime ago posit that Professor Soyinka should do more of what he is known for so that he can win more laureates for Nigerians. I am certain that Keyamo would have laughed quite loud upon coming across the topic, "PREDICTING NIGERIA, ELECTORAL IRONIES" on which Soyinka delivered a lecture in far away America a few days ago. Personally, I am baffled at the choice of topic which must have been made by Soyinka himself.
I ask, was a topic on the just concluded general election in Nigeria the best he could choose? Assuming even that there was a compelling need to give a lecture on Nigeria at this point in time, would it not have been better and more edifying for Soyinka to once avoid a talk down on his country and instead remind the rest of the world that, contrary to some insinuations and expectations in several quarters, our dear country successfully conducted the general elections after all. Shouldn't he have used the occasion of the lecture to tell the rest of the world that Nigeria did not break up after all and has indeed shown that it is capable of growing its democracy? Is it not baffling that at a time the rest of the world is praising Nigerians for collectively conducting themselves well at the 2015 general elections, an 81 year old fellow whose generation got the very best of out of Nigeria would go to foreign land to abuse his fellow citizens in a hasty commentary on an election he, by his own admission, could not take a stand on.
Newspaper reports quoted Soyinka as follows "It was a painful decision to tell people to vote Buhari … I was more against Jonathan than I was pro-Buhari". As far as I am concerned, the Professor was merely hiding behind sheer semantic. He was sitting on the fence. Although he wrote critical articles on President Jonathan, Soyinka never came out to openly support Buhari and he has said so in his "… I was more against Jonathan than I was pro – Buhari" submission. So, where was he when others put in everything they had to be "pro-Buhari"? Or is he trying to reap where he did not sow? My advice to the President-elect, General Muhammadu Buhari (GMB), is that he should be very mindful of the antics of elements like Soyinka who, as he has just confessed, can work for two contending sides at the same time. More important, GMB (by the way, what title is the President-elect going to take – General, Alhaji or Mallam?) should be mindful of the likes of Soyinka who have become pre-occupied with fanning the amber of ethnic hatred rather than write more literature.
As I noted in an earlier article – Igbo Did Not Make A Mistake On 2015 – GMB should have nothing to do with anybody, including Igbo themselves, who would remind him that some sections of the country did not vote for him. It is blackmail on him not even on the Igbo. As I noted in that article, all the talked about the Igbo lacking in vision and which made them not support the Buhari (APC) project is bunkum. As far as I am concerned, the decision to support Jonathan more than they did for Buhari is in itself a vision; so that even as it did not go the way they had envisaged, I think the Igbo have what it takes to face whatever consequences. It is not for the likes of Soyinka to abuse the Igbo the way he did in his infamous lecture in America.
As has been seen since after the election, Igbo have shown that they have nothing against Buhari. They have accepted his ascendancy as President of their country and contrary to insinuations by Soyinka and his ilk, Buhari will soon discover that his strongest supporters will be the Igbo when the chips are down. General Buhari is, of course, in a better position to know that Soyinka represents a tendency that is intolerant of contending ideas, and which has refused to get used to the nuances of a plural society like Nigeria.
If what was reported in the media was indeed what Professor Soyinka said about the Igbo on the 2015 election, then I dare say that the gains of the past 16 years of democracy have been wiped away; and that Nigeria has been taken 45 years back. Said Soyinka in his lecture: "Igbo remained unrepentant and resolute towards their strategic objective of secession at worst or a Nigerian president of Igbo extradition at best". Habba! Igbo "unrepentant" on secession in 2015?
Was the script written for Soyinka? Or to put it in the Nigerian parlance, how much was he paid to make such an allegation? Was Soyinka hearing of the clamour for president of Igbo extraction for the first time? And pray, did not his ethnic group, the Yoruba, clarmour for a president of Yoruba extraction in 1998/99, to the extent that the only two political parties that contested the presidential election in 1998/99 fielded only Yoruba – Olusegun Obasanjo, (PDP) and Olu Folae (APP)?
Soyinka showed his lack of grasp of Nigerian issues when he said at the 'lecture' attended by, I am sure, those versed in both historical and contemporary Nigeria Issues thus: "The climax of MASSOB's war against the Nigerian state was the call for sit-ins and civil disobedience that shut down markets and public services as Igbo stayed at home in a symbolic gesture to assert Biafran Independence. The call was honoured by governors in the two principal Igbo states though without fanfare".
What a blatant disinformation to the world by one of Africa 'best'. One, what date did MASSOB wage the "war against the Nigerian state"?
Two, what date did it (MASSOB) agitate for Biafran independence? By Soyinka's own admission, the call for sit-ins was a mere "symbolic gesture". So, how does he want the world to compare that symbolic (peaceful) gesture to Boko Haram insurgency in the North that has destroyed thousands of lives and the militancy in the Niger Delta that destroys the economic life wire of the country? Soyinka said only two governors in the Igbo states attended the sit-in saga he so absent-mindedly narrated. There are five Igbo states, why did only two governors attend if the Igbo were waging a "war against the Nigerian state…", as he claimed. Because the professor sounded so ordinary in his lecture, let me summarize this article also in an ordinary street language that is now in vogue in Nigeria: Soyinka why, Soyinka?!!.
Disclaimer:

"The views/contents expressed in this article are the sole responsibility of

ETHELBERT OKERE

and do not necessarily reflect those of The Nigerian Voice. The Nigerian Voice will not be responsible or liable for any inaccurate or incorrect statements contained in this article."