Power generation capacity hits 6,000Mw, says Sambo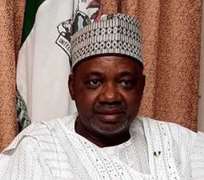 Vice President Namadi Sambo yesterday said the  Nigeria Electricity Supply Industry (NESI) now has 6000megawatts (Mw) generation capacity.
Speaking during the inauguration of the 330/132KV Transmission Substation in Gwagwalada, Abuja, he confirmed the position of the Minister of Power, Prof. Chinedu Nebo, that were it not for gas challenge, the electricity market can generate 6,000Mw
'At present, as confirmed by the minister of power, the generation level is about 6,000Mw. And  we can wheel up to 5,500Mw. We shall continue to make our contributions. We are confident that posterity will place us on the right side of history,' Sambo stated.
Urging vandals to keep off the installation, Sambo called on  the residents of Gwagwalada to keep surveillance on the substation.
The Niger Delta Power Holding Company (NDPHC) which constructed the facilitty through Chinese Construction Company (CCC) International, will in its second phase of the project, focus mainly on the construction of hydro power plants in northern Nigeria, he said.
'In its phase two mandate, the NDPHC will vigorously pursue the construction of hydro power plants mainly in the northern axis to assure  a mixed grid distribution. Currently, the company plans to construct new nine and hydro power plants, which includes the Mambilla hydro power plant that will generate 3050Mw.
'I will use this opportunity to assure all Nigerians that all the decisions and project implementations both Niger Delta Power Holding Company and the National Council on Privatisation, all decisions are taken on sound professional advice and sound decision to ensure that we succeed in Nigeria in providing power for the benefit of Nigerians and development,' he stated.
Nebo said the Federal Government had looked forward to the completion of the project before now but there were some hiccups that delayed it.
He appealed to vandals of power installations to give the power sector a chance .
Nebo said: 'We plead with those who are vandalising our gas to power infrastructure to give Nigeria a chance to celebrate what this administration has done . Because today, we do not only have the capacity to generate about 6,000Mw of power if we have the gas, also to wheel out through transmission over 5,500Mw.'
The Managing Director NDPHC, Mr. James Olotu noted that the sub-station would improve electricity supply and the quality of life.
The chairman, Senate Committee on Power, Senator Philip Aduda, who noted that the sub- station will boost power supply to the Northcentral zone, said energy generated in the NESI will be stranded or useless if it is not transmitted.