CURRENCY IN CIRCULATION RISES BY 2.9% TO N1.08TN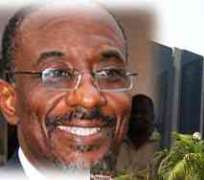 CBN Governor Lamido Sanusi, CBN Headquarters in Abuja (background).
The total currency in circulation in Nigeria increased by 2.9 per cent, from N1.05tn in February to N1.08tn in March, the Central Bank of Nigeria said on Wednesday.
The CBN said in its monthly report, posted on its website, that money in circulation had increased steadily between October and December 2009, after which it began to fall.
According to the report, money in circulation rose from N1.02tn in October 2009 to N1.11tn in November and N1.18tn in December.
It began to decline from December 2009, dropping by 9.32 per cent from N1.18tn in December to N1.07tn at the beginning of 2010, the apex bank said. It further dropped from N1.07tn in January to N1.05tn in February.
The CBN had said at the last Monetary Policy Committee meeting that 'over the preceding December level, broad money (M2) declined by 3.11 per cent in January 2010, significantly below the indicative benchmark of 29.26 per cent growth for 2010.'
It added that as in most periods of 2009, reserve money continued to be below the indicative benchmark for the first quarter of 2010 in the first two months of 2010.
It had also said the trend in money supply reflected a fall in all its components, including net foreign credits, credit to the private sector and credit to government, adding that this development was a reflection of the slack in aggregate demand, underlining the need for the sustenance of the easing of monetary policy.
The mechanisms put in place for an expansionary monetary policy might have accounted largely for the increase in money in circulation, experts noted.
However, a top official of the CBN, who spoke on the condition of anonymity, said even though an increase in money in circulation reflected excess liquidity, it would not pose a problem for now.
According to him, there will be no need for mopping up because the excess liquidity in the system will not immediately translate to increase in credit.
He said, 'There is a lot of liquidity in the market, but banks are not lending because the market needs to regain confidence and the banks have to strengthen their risk management processes, given what happened last year.
'The increase in money in circulation may mean excess liquidity, but this excess liquidity is not a problem for now because it will not immediately translate to increase in credit. Banks need to resume lending at the rate necessary to push activities, which is the reason why the CBN is putting in place various incentives and reviewing prudential guidelines.'
On whether the increase would lead to higher inflation, he said, 'It can't lead to higher inflation because of the peculiarities in the system.'
Inflation stood at 12.3 per cent in February, the CBN had said.