Court to rule on Kashamu's extradition application May 27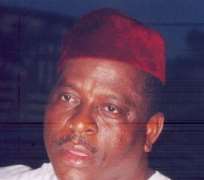 A Federal High Court sitting in Lagos has adjourned till May 27, 2015, to rule on a fundamental rights enforcement suit by the Senator-elect for Ogun East Senatorial District, Mr. Buruji Kashamu, challenging an alleged plot to extradite him to the United States of America over alleged drug charges.
Kashamu, in the suit, is alleging that the Inspector General of Police and 11 others are plotting to abduct and forcibly transport him to the US to face trial on alleged drug-related offences.
He claimed that he had uncovered plans by the defendants doing the bidding of former President Olusegun Obasanjo to arrest him during his swearing in as a senator and to transport him to the US in a private plane to face trial before Judge Norgle.
He is praying the court to declare the alleged plot to abduct and extradite him as an infringment on his fundamental human right to liberty, freedom of association and freedom of movement as protected by sections 35, 40 and 41 of the Constitution. His counsel at the hearing of the matter, argued that said his client had rushed to court to seek protection because 'when you see a danger coming, you don't have to wait until it takes place.'
He said the law allowed an applicant to seek the court's protection when he sees that a danger 'has been, is being or is likely to be' unleashed on him, adding that Kashamu fell within the perimeter of 'likely to be.' He argued that none of the 12 respondents sued had controverted the alleged plot to abduct his client. Opposing the application, counsel to the Inspector General of police and the Interpol National Central Bureau, argued that Kashamu failed to show any proof of the alleged move to abduct and extradite him.
The IG described Kashamu's action as speculative, urged the court to dismiss the suit, adding that abduction is a criminal offence, which the police IG, as the foremost law enforcement agent in the country, would never engage in.
The other respondents who, through their counsel, canvassed various arguments and urged the court to dismiss Kashamu's suit were the Chairman, National Drug Law Enforcement Agency, Chairman, Economic and Financial Crimes Commission; Director General, Department of State Service; and the Attorney General of the Federation.
Others are the Clerk of the National Assembly; the National Security Adviser to the President of the Federal Republic of Nigeria; Independent Corrupt Practices and other Related Offences Commission; Nigeria Customs Services; the Nigeria Immigration Service; and the Nigeria Security and Civil Defence Corps. Earlier Justice Okon Abang refused an application by the counsel for the Clerk of the National Assembly, to join Obasanjo as a respondent in the suit.