OKONJO-IWEALA URGES NIGERIA TO HARNESS 'DEMOGRAPHIC DIVIDEND'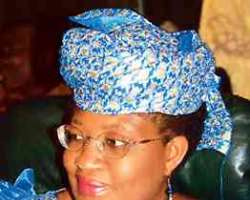 Dr. Ngozi Okonjo-Iweala, forme
The Managing Director of the World Bank, Dr. Ngozi Okonjo-Iweala, on Wednesday said Nigeria needed to utilise the power of her vast population to become an economic powerhouse.
Okonjo-Iweala, who served as Minister of Finance during the Obasanjo regime spoke shortly after her arrival from the United States of America. She is due to deliver a lecture as guest speaker at the Institute of Director Nigeria 's 2010 Conference in Lagos on Friday.
Okonjo-Iweala, who wore a light blue skirt and blouse, was not willing to elaborate on questions by journalists but, she said that Nigeria needed to explore the full potential of her demographic dividend', stressing that the teeming youth population must be fully harnessed for the best of the country.
She said, 'I am going to say that Nigeria needs to pay attention to something called the demographic dividend. That is an issue that is of utmost importance. We need to pay attention as to how to utilise, the youth population the best.'
The United States Census Bureau projects that population of Nigeria will reach 264 million by 2050, making it the eight most populous country in the world.
When asked about what should be the economic priorities of the nation, particularly as regards to the new ministers appointed by Acting President Goodluck Jonathan, she said she would discuss it fully in two days time at the conference.
She said 'In two days time, Iam going to issue a statement on the issue.
She is expected to also deliver a lecture thereafter at the University of Calabar.