APC governors blame FG for unpaid salaries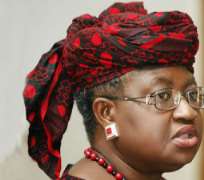 The All Progressives Congress has called on the President-elect, Muhammadu Buhari, to probe the individuals responsible for the inability of government to pay workers' salaries.
The Imo State Governor and Chairman, APC Governors' Forum, Rochas Okorocha, said this on Thursday.
He said that President Goodluck Jonathan and the Minister of Finance, Dr. Ngozi Okonjo-Iweala, must take responsibility for unpaid salaries and the poor state of Nigeria's economy.
Also, two APC governors faulted the claim by the Federal Government that many state governments could not pay salaries because they did not prioritise the payment of workers' salaries.
They included Oyo State Governor, Abiola Ajimobi; and his Osun State counterpart, Rauf Aregbesola.
Speaking in separate interviews, the governors on Thursday laid the blame for the inability to pay workers' salaries on the doorstep of the Federal Government.
Okorocha decried a situation where state governments had found it difficult to pay workers' salaries, maintaining that the President and the minister should own up to their mistakes.
The governor, who spoke on Thursday through his Chief Press Secretary, Mr. Sam Onwuemedo, argued that Okonjo-Iweala should not have shifted the blame since the complaint of the inability to pay salaries was also coming from some of the Peoples Democratic Party-controlled states.
Okorocha said, 'God has begun to do something for Nigerians. The man, Buhari, who is coming in now, is a person who does not joke with discipline. When you talk about discipline, it is all-embracing. He will bring financial discipline into the system.
'By the time the man takes off, most of these things would be corrected. When the man at the helm of affairs is disciplined, invariably, other people must follow. Have you asked yourself the issue of the missing $20bn? All of a sudden, it was linked to somewhere. Nigeria is a rich country because God blessed this country. It will only take a strong leadership to get things moving.
'Buhari must set the ball rolling. Nigerians know why they voted for him. Even though he has said he will not probe anybody, but in the current situation we are, when it becomes necessary, with all these monies taken away by individuals, he should recover them for the country. If need be, he (Buhari) should put some of them on trial so that others will be very careful.
'A few Nigerians cannot be holding the entire nation to ransom. Whatever it takes to recover Nigeria's money, it does not matter whose ox is gored; he should go ahead and do it. He must deviate from the old system for this country to move forward.'
Mr. Festus Adedayo, who is the special adviser (media) to Oyo State Governor, Senator Abiola Ajimobi, said the Federal Government was wrong to pass the blame on state governments.
A statement by Adedayo on Thursday said that the fall in the allocation accruable to the states was responsible for the financial challenges being faced by states.
The statement read, 'The Federal Ministry of Finance needed to be told the equivocation in its own statement. According to it, the FG had gone to banks in the last few months to meet its salary obligations.It also acknowledged that allocations to state governments had reduced by 50 per cent. Truly, the Oyo State government, which used to collect about N4bn, has had same reduced to a little more than N2bn now.
'Before now, we were paying our workers on or before 26th of every month. How do we meet our salary obligation of about N5.3bn with such colossal reduction?'
Reacting, Rauf Aregbesola said his administration had prioritised payment of workers' salaries, adding that the state had been augmenting workers' salaries with its hard-earned savings since 2013.
A statement by the Director, Osun State Bureau of Communication and Strategy, Mr. Semiu Okanlawon, on Thursday, said, 'If it is a matter of priority, then Osun would not be among states that do not priotise payment of salaries of workers.' - Punch.