AJEGUNLE MAYHEM: POLICE QUIZ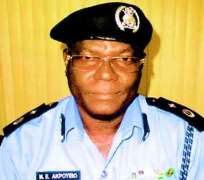 Lagos State Commissioner of Police, Marvel Akpoyibo
The police on Wednesday quizzed the Secretary, Labour and Civil Society Coalition, Lagos State Chapter, Mr. Daggar Tolar, over the mayhem that engulfed Ajegunle in Ajeromi/Ifelodun Local Government Area.
He was quizzed by a detachment of policemen from Ajeromi Police Station and was thereafter taken to the Criminal Investigation Department, Panti, Yaba, for interrogation.
Tolar was arrested when he came for a meeting with the chairman of the council, Mr. Kamal Bayewu, at the council's headquarters.
The meeting was attended by Tolar, an acquaintance, Bayewu, and the spokesman of the state police command, Mr. Frank Mba.
Coincidentally, Mba had come on a condolence visit to the family of one of the victims, Mr. Charles Okafor, on behalf of the Commissioner of Police, Mr. Marvel Akpoyibo.
Charles was said to have died after police raided a viewing centre at Layinka Street on Thursday.
The area witnessed unrest from Thursday to Saturday (last week), leading to the death of two people.
Daggar was said to have mobilised and led a protest on Saturday, which was hijacked by hoodlums, leading to the vandalisation of property.
Mba, in a condolence message, conveyed the sympathy of Akpoyibo and the police over the victim's death. He promised the family that the police would ensure that justice was done.
He said the police would not condone unprofessional and unjust conduct from his men.
According to him, the policemen that raided the viewing centre were undergoing interrogation.
He promised that Okafor's family would have an opportunity for their doctor to be present during an autopsy on Charles.
Mba said, 'I, on behalf of the CP, condole with and reassure the family that the death of Charles will not be swept under the carpet. I will agree that there is a controversy on how Charles died. It is our duty to investigate it to the logical conclusion.
'We are very lucky nobody hurriedly buried Charles, which means that we have an opportunity to do an autopsy.
'We are promising the family that the day the autopsy will be done, the family will be informed. The family will have a right to appoint a medical doctor of their choice to represent them when the autopsy is being done so that there will not be any allegation of a cover-up.'
He also said the Nigerian Medical Association may be involved in the autopsy.
Charles' father, Mr. Wilson Okafor, thanked the police for their efforts in ensuring justice over Charles' death. He also said Bayewu had been tireless in ensuring that justice was done.
Bayewu said the council would assist the family. He asked residents to go about their normal business, saying that peace had since returned to the area. He also advised aggrieved youths not to take the laws into their hands but to explore right and lawful avenues for redress.