Rivers PDP Berates Davies Ikanya Over Allegation Of Assassination Plot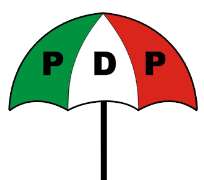 The Rivers State Chapter of the Peoples Democratic Party, PDP, says it has noted with great concern the shameless admission by Mr. Davies Ikanya, All Progressives Congress, APC, Chairman in the State of plotting to stall the democratic process in the State by working towards ensuring that there is no handover to the incoming government in the State on May 29.
Describing the statement credited to Mr. Ikanya as felony and actionable, the Chairman of the State PDP, Bro. Felix Obuah said through a statement signed by his Media Adviser, Jerry Needam that all the APC wants in the State is anarchy simply because it lost the governorship election.
All other imputations of assassination plots against its members are only but a ruse to cover its evil plans, Bro Felix Obuah said.
He however, said that the PDP cannot be intimidated or cowed, by such unfounded and malicious allegations against it by Mr. Davies Ikanya, stressing that the people of Rivers State have spoken through their massive voting for the State governor-elect, Chief Barr. Nyesom Wike and that is sacrosanct.
"We only hope that the law enforcement agencies are taking note of Mr. Davies Ikanya's conspiracy even though he has failed before they could start.
"As a law-abiding party, we'll continue to align ourselves with the mandate of the people and remain committed to fashioning out ways of bettering their welfare as encapsulated in our campaign promises".
No degree of provocation can put the wind off our sail." Bro. Felix Obuah said.
The PDP hereby warns Mr. Davies Ikanya to desist forthwith, from linking the party to assassination plots.
On the purported Local Government Council elections, Amaechi and the APC know full well that they are trading on illegality and this fact cannot be controverted.
The PDP is not perturbed in any way by such fallacy and insistence on going on with the illegal Local Government elections, an avenue for making up for already misappropriated State funds.
The allegation of purported planned assassination of APC members is absolutely false and just diversionary, the PDP State Chairman, Obuah concluded.
Signed
Jerry Needam
Special Adviser on Media to
State PDP Chairman, Bro. Felix Obuah
Wednesday, May 6, 2015