Drawing The Attention Of Nigerians To The Anarchy In Rivers State Judiciary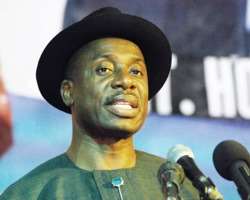 For almost a year now, the judiciary system in Rivers State has been paralysed because of the political rascality and lawlessness of the APC led administration in that state.
The situation is particularly worrisome because dispensation of justice has been subverted and the masses have no access to the court, which has been under lock and key in a Democratic Government! In Rivers State, criminality is the order of the day because there is no court to administer justice.
The most disturbing phenomenon is that the Lagos-Ibadan axis press have kept mum simply because APC State is involved. It is common knowledge that the press in that axis find it convenient to compromise and connive at the illegality in APC states while they shout to a crescendo if PDP state is involved. What a balance reporting!
The Lagos-Ibadan press have been vociferous and critical about the political situation in Ekiti State. The newspapers have been awashed with screaming headlines and editorial opinions portraying the state in bad light.
Ekiti State being a PDP state has attracted damaging criticism from that section of the press to satisfy their paymaster. The minor issue in the state legislature is over dramatized. The ill-fated motivated impeachment plot of the APC lawmakers against Governor Fayose has enjoyed the tacit support and approval of that section of the press through their manner of reportage.
My clarion call on APC and their cohorts masquerading in whatever guise is to be more concerned with the situation in Rivers State.
The party should beam its searchlight on the horrendous spectacle in the State Judiciary and its crippling effects on the common masses rather than firing arsenal on Ekiti State.
Ekiti is enjoying peace and stability under the purposeful leadership of Governor Ayo Fayose. The state legislature is on course having robust engagement with the executive.
Governor Amaechi's tyranny on the Judiciary in Rivers State should be more worrisome to all lovers of democracy. His party; the APC, should call him to order.
The APC should be more concerned with the log in its eyes that the specs in another man's eyes. The party should leave Ekiti State alone and reserve its energy for 2018 election.
Those who seek power by riding the back of the tiger, end up shamefully inside.
A word is enough for the wise......
Rt Hon. Dele Olugbemi Speaker,
Ekiti State House of Assembly