RIMI: NBA, NU LAMENT RISING LEVEL OF INSECURITY IN NIGERIA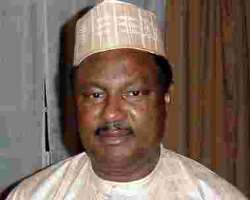 The Nigerian Bar Association on Wednesday expressed regret over the demise of a former governor of old Kano State, Mallam Abubakar Rimi, saying that it is regrettable that Federal Government has abandoned one of its primary responsibilities to Nigerians.
Also, the Northern Union on Wednesday revisited the circumstances that led to Rimi's death after a robbery attack on his way from Bauchi to Kano and declared that the security situation in the country was unacceptable.
NBA in a statement by its President, Mr. Rotimi Akeredolu (SAN), described Rimi's death as a colossal loss to the nation.
He also lamented the high level of insecurity in the country, stressing that government's continued neglect of one of its primary responsibilities to the citizenry was worrisome.
The NBA said, 'This latest death, coming at this period, is a sad reminder to us all of the abysmal level of insecurity in the country. No fate seems more certain to Nigerians than grim and preventable death. We are living witnesses to the fact that politicians keep appropriating huge sums of the budgetary allocations at both federal and state levels for security.
'That lives and property are now left squarely to the whimsical expressions and bestial dispositions of the denizens while our roads remain blocked by all manner of questionable characters who assail our sensibilities with scruffy apparels and scurrilous interrogatories in the attempt to extort money is a direct indictment of all our security agencies as either conniving or inept. Despondency hangs thickly in the air.'
It added, 'Our security agencies have issued the worn-out cliche on their determination 'to bring the perpetrators to book.' This never comes to fruition and continues to raise questions on our readiness to join the rest of the world who believe that the welfare of the people is the primary responsibility of those in government.'
The NU, in a statement signed by its Chairman, Dr. Olusola Saraki, called on the Federal Government to address the security issue as well as probe the attack.
The statement read, 'On behalf of the Northern Union, I hereby express our heartfelt grief on the passing away of the first Executive governor of Kano State, Alhaji Abubakar Rimi.
'The death of Alhaji Rimi has come to us as a rude shock at a critical period of national stress which requires interventions from patriotic citizens like him, to chart the way forward.
'We are deeply saddened that Rimi's death has robbed the North and indeed Nigeria of one of its brightest, most colourful and focused political leaders who spent a greater part of his life fighting on behalf of the masses.
'One, the state of insecurity in Nigeria today is unacceptable. Two, we restate the need to investigate the attack. Government needs to address these concerns early.'