Nsukka forum congratulates Buhari, demands ministerial slot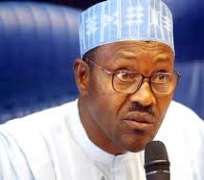 A national group of Nsukka professionals, under the auspices of Nsukka Unity Forum (NUF), has congratulated President-Elect, General Muhammadu Buhari on his deserving victory at the polls saying that it was a true reflection of the wishes and aspirations of Nigerians.
Speaking in Abuja yesterday during a press briefing, the group's National President, Deacon Onyekachi Ugwuanyi and Secretary, Mr. Nnaemeka Nnadi, while making a case for an Nsukka indigene to be appointed to fill the Enugu State ministerial slot, expressed great confidence in the personality of Gen. Buhari as one of the most disciplined leaders in the nation.
The group also expressed confidence that the Daura-born general will steer the ship of the nation to a good habour.
'Firstly, we congratulate the President-Elect, Gen. Muhammadu Buhari (Rtd) for his victory at the just concluded Presidential Election. We at Nsukka Unity Forum (NUF) wish to pledge our unalloyed support and loyalty to Gen. Buhari's incoming administration and urge all Nigerians to co-operate with the President-Elect and his team to enhance the living standard of Nigerians', the group president stated.
Deacon Ugwuanyi strongly stressed the need to appoint an Nsukka indigene as a minister in the incoming administration stating that since the inception of this democracy in 1999, no Nsukka indigene has been appointed as a minister.
The Abuja-based business tycoon however, wondered why other zones in the state are contesting the slot as it was time for an Nsukka indigene to occupy the position.
Ugwuanyi who took newsmen back memory lane, reminded that from 1999, only people of old Enugu zone have occupied the position.
He noted that Chief Dubem Onyia from Udi Local Govt, was minister for State Foreign Affairs, and was replaced by Chief Frank Nweke Jr, who was minister of Special Duties and later Information.
Mrs. Fidelia Njeze came on board in 2007 as minister of Aviation and was replaced by Prof. Bart Nnaji and subsequently Prof. Chinedu Nebo, who is the current Minister of Power.
Ugwuanyi informed that all these people are from the old Enugu zone while the people of Nsukka have been left in the cold.
He therefore urged the President-Elect to appoint an Nsukka son or daughter as a minister to correct the imbalance and put a stop to the marginalization of Nsukka people.
'To correct this imbalance, we the people of old Nsukka senatorial zone, Enugu North and Isi-uzo Local government hereby crave the indulgence of the President-Elect Gen. Muhammadu Buhari under the APC government to consider and appoint a worthy son or daughter of the district as minister of the Federal Republic of Nigeria' he said.