From Ogboko To Owerri...Group Trekked 14hrs To Celebrate Rochas Victory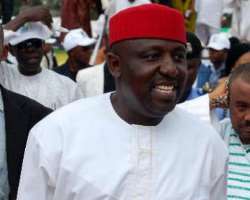 A group of three men who are members of an NGO, Njem Igbo Movement has trekked from Ogboko in Ideato LGA to Imo state Governmnet House Owerri to celebrate the victory of His Excellency, Owelle Anayo Rochas Okorocha on the just concluded Imo gubernatorial election.
The group led by Comrade Paschal Egoigbo a long side Paul Amadi and Abasi Chidiebere said that they dedicated the trek to Okorocha and to Imo people who gave him the Mandate.
Speaking shortly to pressmen in Government House on Monday after exhausting the journey that lasted over 14 hours, Egoigbo said that they embarked on this lengthy hour trekking to express their joy, enthusiasm and perseverance in Okorocha's victory.
The Trek according to him reflects the perseverance, focus and vision of His Excellency to better the life of Imolites, maintaining that 0korocha refused to be distracted while working towards the betterment of Imo state such he said motivated Ndi Imo to stand by him when they battled for soul of Imo state.
He therefore, urge Okorocha no to relent in bringing the dividend of democracy to the people by consolidating on the existing projects and as well embarked on the impossibilities, which he state only exist on mind of people.
Paschal said "People said it is impossible when we told them that we want to trek from Ogboko to Government House; the same way People said that free education and other projects promised by His Excellency is impossible until he started to execute them, today we want to prove to them that the Industries, Industries, Industries, Factories, Factories, Factories ,Job, Job, Job as promised by Governor for this second tenure is possible and only needed support.
Receiving, them on behalf Imo State Governor, Prince J.U Ezenwa the Mayor of Government House commended the youth for the breath feat, assuring them that he would relay the information to the governor and urge the youth to emulate them.
Lending his voice, High Chief Okanandu Ezigbo who monitored the trekking , said he decided to follow them on their adventure despite the fact that he did not trek with them but rather he drove his car along monitoring their movement because he want to be sure of its possibility.