Jonathan vows to wipe out Boko Haram before handover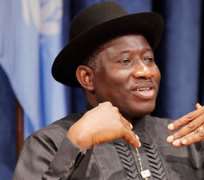 President Goodluck Jonathan pledged in Abuja on Thursday that he will do all within his powers to ensure that all Nigerian territories still held by terrorists and insurgents were totally liberated before May 29.
He said this while receiving a delegation of Heads of Customs from the West and Central African Region of the World Customs Organisation led by the Secretary-General of the organisation, Dr Kunio Mikuriya.
Jonathan said that he was determined to hand over a country completely free of terrorist strongholds to the President-elect, Gen. Muhammadu Buhari.
The President said that on going military operations in the North-East had already recorded huge successes.
He said two states were completely free from the control of terrorists while operations in the third state had reached a concluding stage.
'We can now say two states are completely free from terrorist control, while in the third state, it is only in one Local Government Area that they are still present.
'That is in the Sambisa Forest,' he said.
Jonathan noted that the military had already moved into the forest to seize the remaining camps of the terrorists.
He added that the recent rescue of no fewer than 300 abducted girls and women was further evidence of the success being achieved in the on going operation.
On his decision to concede victory to the President-elect, Gen. Buhari, before all the results of the presidential elections were announced, Jonathan said elections must be approached from a nationalistic point of view.
'Our elections should be about where Nigeria is going. If Nigeria is moving forward, it is for the good of all Nigerians.
'My children and grandchildren will live and grow in this country and contribute to it. I always tell my colleagues to leave office when their time is up.
'We are trying to encourage African leaders not to remain in power as kings until death,' he said.
Mikuriya commended the President for supporting the reform of the Nigeria Customs Service.
He noted that other African countries had started emulating the vision, strategy, adoption to new technology and result-oriented training of officers that were captured in Nigeria's reforms.