Okorocha predicts APC victory in South-East in 2019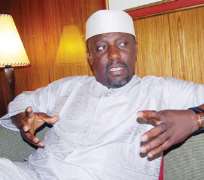 Governor Rochas Okorocha of Imo, on Thursday said the All Progressives Congress (APC) would take the entire South-East in 2019 general elections.
Okorocha gave the assurance while speaking with newsmen at the end of his closed-door meeting with Buhari at the Defence House in Abuja.
He claimed that the region played a key role in Buhari's victory in the just-concluded general elections compared to 2011 general elections.
'The South-East played a very key role in the victory of Gen. Muhammadu Buhari, considering what happened in 2011 when the Peoples Democratic Party returned about seven million votes.
'We came to reassure him that in the next dispensation, the entire South-East will be APC,' he said.
The governor expressed optimism that the region would advance under Buhari's leadership, describing him as a 'fair person, who believes in justice, equity and fair play'.
'The South-East is one of the tripods upon which this nation stands and we believe that what is good for 'A' is also good for 'B'.
'We know that the South-East will not be left out in the political equation of Nigeria in terms of distribution of infrastructure and federal appointments,' he said.
On zoning of positions in the party, Okorocha said that no position had been zoned to anyone, adding that a committee had been set up to review the allocation and distribution of appointments in Nigeria.
He also said that the issue of a president emerging from the South-East was still early and urged all to pray for success of the in-coming administration.
He prayed for God's wisdom and health to enable Buhari carry out the task of governance in Nigeria, and assured him of the support of the South-East.