Tragedy Struck in Lagos as Man Delivers Letter Bomb to Super Screen TV Station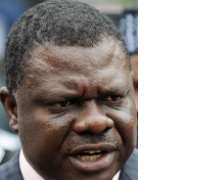 In what has appeared to be a recurring decimal in Nigeria, particularly in Lagos State; threat to the lives of media practitioners have now become one case too many. It was indeed a black Tuesday (Dec. 22) in Lagos when a very shocking incidence occurred, just as a bomb exploded on a man at the Onipanu area in Lagos.
Reports gathered by huhuonline.com revealed that a man walked into the building housing Superscreen Television in Onipanu part of Lagos State (Ikorodu road), with some parcels containing bombs, one of which appears to have gone off, blowing off his fingers and his face, the victim is believed to still be alive and able to speak. The police bomb disposal squad also visited the scene to ensure that further threat of life in the instance of the bomb was averted. They equally made efforts to diffuse the remaining bombs in the victim's custody. The extent of damage to the Superscreen television office and other offices in that complex is yet to be ascertained and the root of this shocking incident is still unknown. Investigations are already underway to bring to book the perpetuators of this act.
Huhuonline.com gathered that the middle-aged man who delivered the parcel said he was told to deliver the parcel to the most senior person in the TV station, and while trying to deliver the letter and vacate the scene, luck ran against him just as the letter bomb detonated instantly, leaving him half dead. It was however confirmed to huhuonline.com that none of the members of staff of Superscreen Television was involved in the tragedy except for the shattered glasses and the pandemonium and panic measure in and around their premises.
Again in making further retrospective analysis to bomb blast related incidence especially to the journalists, one will yet not lose torch of tragedy that struck Newswatch Magazine premises some 23 years back. The outrage over the death of Dele Giwa is as fresh today as it was in 1986. Sunday, October 19, 1986, was a sad day for the media and every year since then, the Giwa family, members of his constituency and the civil society have continued to remember the day for what it was a day of sorrow, anger, grief and bitterness. The anger and shock that trailed Giwa's death were implacable. Nigerians were annoyed by the dastardly manner in which Giwa was killed and they expressed their anger without restraint. Many Nigerians believe that we did not need to look too far for the killers. They pointed fingers at Babangida and members of his security outfit. Until he died last month, Chief Gani Fawehinmi was unrelenting in his claim that Babangida should be prosecuted for Giwa's death.
His death has painfully remained unresolved. As we grope in the dark for his killers, more journalists are being killed in the same dastardly manner with no clue as to who the perpetrators could possibly be. In 2006, Godwin Agbroko of Thisday Newspaper was shot dead on his way home from work. Last year another Thisday editor, Abayomi Ogundeji, was killed by unknown gunmen. Some months back, Bayo Ohu of The Guardian was killed almost the same way that Giwa was dispensed with in 1986. Ohu was like Giwa killed on a Sunday. The only difference is that Ohu was killed by gunmen who invaded his residence. If after 23 years Nigerian government and Police are still looking for the killers of Dele Giwa, is there any hope that we will ever find the killers of Agbroko Ogundeji and Ohu? Already, the police have tagged Ogundeji's case as armed robbery, meaning that is an open and close case. Once the police speak like that, one should just forget the case is as good as dead. But must investigations into homicide cases be treated with such levity? Why then do we have the police when all they do is to jump to hasty conclusions on matters that deserve extensive and thorough probe? No evil perpetrated by man, especially murder, shall go unpunished.
Moreover, the incidence of January 27th, 2002 at Ikeja was still fresh in the memories of Lagosians, when several bombs exploded at the Ikeja Military Cantonment in which scores of thousands of people died during the stampede that followed the explosion particularly children that drowned in a chemically contaminated canal called Oke-Afa Canal in Isolo, Ejigbo Local Government Area (LGA). It will also be recalled that in the wake of the disaster the then President Obasanjo in his reaction to the development as reported in the media said: "I didn't need to be here to see anything because my being here will not solve anything. Shut up. I took the opportunity of being here to see what could be done. I don't need to be here. .. I really don't need to be here.
"So far I have not heard of any loss of life in the incident." This was nearly 24 hours after an armory with high-caliber bombs blew up in a city of estimated 12 million people. Obasanjo later claimed: "When I visited the site of the tragic explosion at the Ikeja Cantonment on Monday morning, no loss of life was reported to me and my comment then was to thank God that no life was lost. "If I had received any reported case of loss of life, I would have cancelled my trip to Katsina and would have remained in Lagos for the day." This led to calls from various quarters on the need to move an impeachment move against Mr. President. Meanwhile, former Governor of Lagos State, Bola Tinubu out of his magnanimity that time graciously sent machinery in place to work out ways of cushioning the effect of the disaster on victims' families.However, huhuonline.com has been reliably told that Police would dig deep to the incident that happened at Superscreen television, and ensure that all the perpetuators are brought to book since the person who made the delivery is still alive, though officials of the television station have vowed to follow up with the case to ensure that no stone was left unturned and also to avoid the case being swept under the carpet just like it has happened in other related cases in Nigeria.
|
Article source