Michael Weiss On Tinubu: Is This White Journalist Dividing Us With His Whiteness?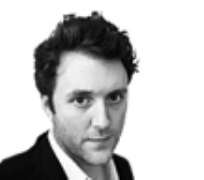 Michael Weiss of The Daily Beast, an American online opinion and news outlet known for its peculiar style of reporting, is generally known as a journalist who focuses on developments in the Middle East and Russia but now has suddenly ventured into Nigeria, the most populous black nation in the world and one with an emerging democracy.
At a time when this black nation and its people are in a joyful mood for growing a little higher as a democracy in a broadly peaceful election, Weiss comes from out of nowhere, or all the way from the Euro-American world, where he would submit himself as a middleman between warring leaderships of the two main political parties in Nigeria.
At a time when our young nation is in its first-ever peaceful political transition and is fully shifting into a new presidency, Weiss would suddenly open up our society into a provoking mode by dredging up an old-aged allegation against Bola Tinubu, one of the leaders of Nigeria's main oppositional party in the 21st century.
Weiss, all the way from America, would plunge himself into the domestic affairs in Sub-Saharan Africa, Nigeria in particular, focusing on a more than twenty-year-old drug-related accusation against Tinubu which is widely known by the people, and for which there was no evidence of indictment or conviction.
The people of Nigeria remain aware that in the last few days a war of words has passed between Tinubu and Buruji Kashamu, a leader of the outgoing political party, who has been reportedly indicted for drug charges and possibly facing extradition to the United States in the coming weeks or months.
If Weiss was really concerned about the social realities facing the leadership in Africa, Nigeria especially, it would have been more helpful if six to twelve months ago; he had raised issues regarding the impact of the social behaviour of leaders as they relate to the national leadership, especially leaders such as Tinubu or even Buruji.
Weiss, by his action of injecting himself into native matters like what we have here, all too obviously personifies what we know from American history.
Malcolm X, at one time a prominent African America leader, in a speech in New York on April 8, 1964, stated "The greatest weapon that the colonial powers have used in the past against our people has always been divide-and-conquer…is the same strategy as that which was used in the past (to) divide…plays one Negro leader against the other… plays one Negro organization against the other… makes us think we have different objectives…"
Following the same line of thinking several years later, we have the words by Bill Cosby, an African American stand-up comedian, as reported in the The Atlantic Newspaper in May 2008, stated, "We are not a pitiful race of people. We are a bright race, who can move with the best. But we are in a new time…I'm tired of losing to white people…"
There is no attempt to portray Weiss as a racist or a racially divisive individual, but what is clear is that if he wants to comment on our democratic and leadership challenges, his focus should be more on how to take positive steps towards building up to a strong democratic country.
Tinubu, like every one of us, has his personal ups and downs. Weiss needs to be educated about the man called Tinubu, who, in the eyes of many open-minded Nigerians, will be counted as one of those leaders who recently paved the way for entry into a true democracy. He is that man who was a founding member of the pro-democracy National Democratic Coalition (NADECO), which organized support for the restoration of democracy and recognition of the June 12 results, and subsequently went into exile in 1994, only to return back to the country in 1998 after the death of military autocrat, Sani Abacha.
Tinubu would subsequently serve as a democratic Governor from 1999 to 2007 and to this day serves as a national leader of the All Progressive Congress, along with Gen. Muhammadu Buhari and Yemi Osibajo, incoming President and Vice-President respectively. They are jointly raising the spirit of democracy in our nation.
As for Weiss, we have one message for him. What we need more of at this time are ideals and values to help us become a forward-looking democracy and less of the psychology of divide-and-conquer.
Dr. John Egbeazien Oshodi is a Forensic/Clinical Psychologist, a Consultant in National Psychology, and a former Secretary-General of the Nigeria Psychological Association. [email protected]
Disclaimer:

"The views/contents expressed in this article are the sole responsibility of

Dr. John Egbeazien Oshodi

and do not necessarily reflect those of The Nigerian Voice. The Nigerian Voice will not be responsible or liable for any inaccurate or incorrect statements contained in this article."