NERFUND BEGINS DISBURSEMENT OF N2BN MICROCREDIT FUND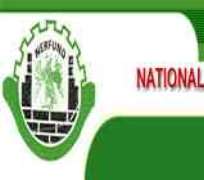 The National Economic Reconstruction Fund on Wednesday began the disbursement of the N2bn micro-credit fund.
The amount, which was approved by the Federal Government in the 2009 supplementary budget and given to NERFUND at an interest rate of two per cent, for onward disbursement to the Small and Medium Scale Enterprises, has a repayment period of eight years.
The Managing Director and Chief Executive of NERFUND, Alhaji Maina Gimba, said this while signing the Memorandum of Understanding between NERFUND and other development agencies.
The development agencies are the Small and Medium Enterprises Development Agency of Nigeria, National Directorate of Employment, National Women Development Centre, and the Entrepreneurship Development Centre.
He said that the move was part of the Federal Government moves to stimulate the economy by providing flexible funding facilities to the MSMEs
He said that out of the N2bn, NERFUND had agreed to disburse N900m to 180 cooperative societies nationwide at an interest rate of eight per cent adding that 'No matter the number of people that is being trained under the poverty reduction programme, without funding, the impact would be minimal.'
The NERFUND boss, while commending the efforts of the Federal Government in alleviating poverty, however, called for more funding to enable the agency effectively discharge its mandate.
He said that since inception in 1989, NERFUND had disbursed a total of N24.9bn to 266 projects, out of which the amount for 224 projects has been fully repaid.
He added that the amount was given for projects in various sectors such as agro-allied, food and beverages, chemicals, wood and wood products, rubber plastics and industrial support services
He said, 'In 1989, NERFUND pioneered this type of collaborative relationship when it entered into partnership agreement with commercial banks for on-lending to medium to long-term credit to eligible SMEs.
'This current agreement is aimed at bringing on board apex development agencies, which have spearheaded the task of re-orientating the active poor to respond to the efforts of the government to stimulate the economy.'
Also speaking at the event, the Director General of SMEDAN, Mr. Muhammad Umar, said that the scheme is open to all MSMEs in Nigeria which would have passed through SMEDAN's entrepreneurship training.
He said, 'In the course of my interaction with MSMEs in the pursuit of the agency's statutory mandate, I have come to appreciate the fact that one of their major challenges is lack of access to affordable and effective finance for their operations.
'This scheme, which was facilitated by the Federal Government, is therefore aimed at providing affordable funding for the MSMEs to enable them operate optimally thereby generating employment, creating wealth and reducing poverty in line with the seven point agenda.'