NOBODY CAN DENY ME SECOND TERM TICKET –ABIA GOV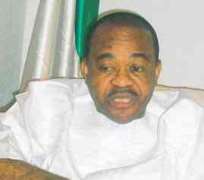 Abia State Governor Theodore Orji has said that it will be improper to deny him the Progressive Peoples Alliance' governorship ticket in 2011, the News Agency of Nigeria reports.
Orji made the statement in Umuahia during a meeting on Tuesday night with PPA local government chairmen and their secretaries at the state party secretariat.
The governor siad, 'It will be improper to push me out of PPA considering the role I played in the growth of the party.
'Apart from Chief Orji Kalu and members of his family, nobody has contributed as much as I have done; and having built this party it will be improper for anybody to push me out.'
The governor was reacting to insinuations from some party officials that he had fallen out of favour with Kalu, his political godfather and predecessor.
He said, 'Ignore what they are saying that I will not be given ticket to run in the 2011 elections at the right time we shall know who is who.'
He said that the difficulties residents of the state, including party supporters, were facing was as a result of the lean resources of the state.
'I cannot allow people to suffer just like that,' the governor said, noting that the state government's funds had depleted drastically.
He said that in spite of the financial constraints faced by his administration, he had made some landmark achievements.
He said that his government had performed well in the health sector by collaborating with an Indian firm to equip the Abia Specialist Hospital and Diagnostic Centre.
Orji said that the Indian firm would build optometry specialist hospitals in Umuahia and Aba, adding that the state government had fulfilled its obligation to the firm and was waiting for the company to reciprocate.
He expressed regret that the state had not been getting its fair share of the excess crude oil fund through deductions from its allocations.
Orji said that the latest shock was when the Federal Government made a deduction of N1.1bn from the N2.2bn that accrued to the state.
He said the state received less than N700m during the sharing of the second phase of the fund.
He expressed regret that the internally-generated revenue of the state had not been encouraging, noting that out of an anticipated N250m monthly revenue, the state only realised N167m.