Matthew Omodiagbe At 51: A Creative Speaker With Integrity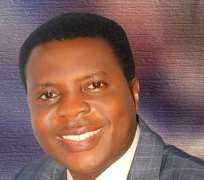 There are three things that makes a successful man on earth, events, characters and experiences which Bishop Dr. Matthew Omodiagbe, the Presiding Bishop of Liberation Word Evangelical Ministries International has possessed in recent past years. He is one of the creative speakers Ajegunle community has ever produced when it comes to preaching undiluted word of God to his veritable congregation.
He never started ministry as bed of roses but worked assiduously to see that Liberation Word Evangelical Ministries International came into limelight. Whoever taught a church from a dirty swamp environment could become a church to be sought after in Nigeria and abroad.
If you have stayed for 10 minutes under Bishop Matthew Omodiagbe's ministration, you see the awesome power of creative speaking in his life. This was a man who was pastored by Bishop (Prof.) Leonard Nwaoma Umunna of the Bible Life Church Cathedral before he left honourably to start his own ministry but later worshiped with Bishop (Dr.) Erumeka and got married to his heartthrob.
He is fast becoming a world-class preacher and a mentor to upcoming pastors in Ajegunle and Nigeria. His bishopric consecration and 50th birthday, where crème da la crème of personalities graced the occasion to witness the gift of God early last year. Having toured some of the European and African countries, he has become a voice for modern ministries and pastors that want to learn how to run successful ministries in Nigeria.
Having worked with Government Press for years and honourably resigned to face his calling and today he is being celebrated by world preachers. He is an HND graduate coupled with other qualifications in Theology and presently studying English language.
The Highlife Ministers Conference that was founded by him few years ago has become a training ground for ministers to grow in life. Having received over 15 awards from different organisations and authored several Christian literature books, he is the eye of Ajegunle ministers.
He has vast knowledge of the word of God to the core. His ministerial fame never came so easily despite several allegations that were laid against his calling but never came gave up but encouraged himself in the lord as David did.Ajegunle community is blessed with gifted preachers which Bishop Matthew Omodiagbe is a leading motivational speaker with creative vision.
He has inculcated ministerial discipline into his first 20 ministers of God and ready to take Liberation Word Evangelical Ministries International to the Promised Land. Bishop Omodiagbe at 51, he is a gift to Ajegunle Pentecostal preachers and his noble congregation.51 years is not 51 days, but he has created impacts in grassroots ministries. He has set up several branches across Nigeria and abroad doing wonderful works for God. He dreams bigger than his age that is why Pentecostal competitors will never know the secret of his astronomical rise in ministry.
However, he has remained focus on his calling than emulating other half-baked Pentecostal preachers in Nigeria. Bishop Omodiagbe has duly served his father land that was why Archbishop Joseph Ojo of Calvary Kingdom Church who consecrated his bishopric mantle said he was a bishop of pastors in Nigeria. Pastor (Mrs.) Gloria Omodiagbe must give thanks to God always for marrying a gifted and talented preacher like Bishop Omodiagbe.
The Bible says a gift of man makes way for him that is why Bishop Omodiagbe stands higher than his peers in ministry. He is a well-dressed preacher with the authority of God. Nearly 50 percent of Ajegunle churches have invited Bishop Omodiagbe to speak in their congregation. He is not a pastor that looks down on people but ready to provide useful advice for young pastors to grow their ministries.
Finally, Mindset Media Limited has tagged him as' the most influential pastor' ever produced in recent times. He is loved by his congregation and everybody is ready to obey his command because his priceless legacies speak volume of his gracious calling.
He once said some of his messages preached outside Nigeria brought numerical blessings to his calling including his books. His joy to see young people getting married and be blessed equally. He has also supported his visionary wife to have modern schools for modern students and parents in Ajegunle and Satellite town.
Once again happy birthday sir and God will give you more years on earth to fulfil your calling in life. You have become a voice for the Ajegunle voiceless preachers. Liberation Word Evangelical Ministries is a place to attend at kojo lane in Ajegunle with Bishop (Dr.) Matthew Omodiagbe.Make a day to see what God is using him to do on the altar.
Pastor Godday Odidi
Social Media Analyst/Mindset Media Limited
08058124798
Lagos
Disclaimer:

"The views/contents expressed in this article are the sole responsibility of

Godday Odidi

and do not necessarily reflect those of The Nigerian Voice. The Nigerian Voice will not be responsible or liable for any inaccurate or incorrect statements contained in this article."
Articles by Godday Odidi