Boko Haram: N7.3 Billion Worth Of Property Destroyed In 5 LGAs Of Adamawa …Gov. Ngillari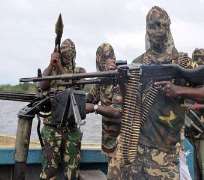 The Adamawa state Gov. Bala Ngillari has on Monday laments on how the insurgency mared economy activity in the state, he confirmed that over N7.3 billion worth of property was destroyed by the members of Boko Haram in Five local Government Areas of the state.
Ngillari made this known during the opening of Multi stakeholders meeting on Internally Displaced Persons in preparation of their return process held in Yola on Monday.
Nggilari said that unaccountable numbers of people were killed or missing due to the insurgent attacks on the seven local government areas of the state.
"We thanked the Almighty that the seven local government areas previously overrun by Boko Haram Terrorists had been liberated and normalcy has been restored.
"According to our recent survey in five local government areas of Gombi,Hong, Maiha, Mubi South and Mubi North excluding Michika and Madagali.
"Property worth over N7.3 billion naira was confirmed destroyed by the insurgents." Ngillari said.
The secretary of the state Mr. Ibrahim Wuye, who represents the Governor of the state said that despite the eager of the IDPs to return to their various villages and towns there was need to create safe and dignity environment for them.
He said that government was ready to implement the outcome result of the meeting to assist rebuilt the affected communities in the state.
In his address, the Director General of the National Emergency Management Agency (NEMA) Alhaji Sadi Sidi, said that the objective of the meeting was to address the fundamental issues of responding to the needs of population affected by the insurgency in the state.
Sidi who was also represented by Alhaji Alhassan Nuhu, Director Disaster Risk Management in the agency observed that in the recent times, there was reports of uncoordinated movement of the IDPs back to their communities as a result of relative peace.
He worried that the development was highly dangerous considering the facts that most of the areas were full of abandoned dangerous weapons such as landmines.
"The uncoordinated movement of the IDPs back to their communities is generating concern amongst humanitarian actors in the state.
"Therefore, a need to put together a proper IDPs returns planning matrix." Sidi said.
Also in his welcome address, the NEMA IDPs camps Coordinator in the state, Alhaji Sa'ad Bello, said that the aim of the meeting was to establish a standard operating procedure for the returning of over 300, 000 IDPs in the state.
Bello said that the meeting at the end was expected to come out with the safe and dignifying process as well as honor and respect for conveying back the IDPs to their respective communities.
The News Agency of Nigeria (NAN) reports that among the participants include representatives of all National Security agencies, UN ,Federal ,state and Local government representatives, NGOs,Media organizations ,Traditional and Religious leaders among others.