Defections Of PDP Politicians To APC In Adamawa: Bringing Bad Omen To Our Democracy—PDP Loyalists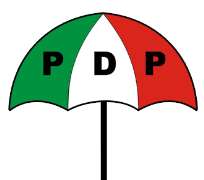 Some few days after the pronouncement of Gen. Muhammmdu Buhari's victory who is a candidate of All Progressives congress,APC, over Goodluck Jonathan who is the candidate and incumbent president under People's Democratic Party, PDP a massive defection of people from PDP to APC in the country especially in Adamawa state is on an increase in a daily basis.
Our correspondent went into the city of Jimeta the Administrative and the economy engine base of Adamawa state to hear the view of some PDP supporters of their fate as a party supporters in the state.
The former PDP chairman, Dr Bamanga Tukur who first made his stand to be a Man that will never shift his tend under the banner of APC, haven worked so hard to raised up PDP to its present state, to him there is no better home than PDP.
The one time defunct Governor of Gongola state stated that if PDP constitution was drafted in his own presence which means he is the original son of that party, any where he goes is definitely going to be a second son.
" There is no way j can't leave PDP,the party we worked hard to bring up, the party that gave me so much, where else do I go that will be better than PDP?" Tukur asked
He berates those that are defecting to APC because of the victory they got under the guise of change as greedy politicians who go not want the democracy in Nigeria to grow. He admitted that it was the mistakes of PDP in so many quarters that gave APC an edge over PDP. He regards defectors as those that do not know the meaning of politics,whose ideology and principles in politics is childish that will not bring good omen to Nigerian democracy.
"I remain an opposition man patiently waiting to see the change they been saying about, all what I know PDP has worked, Jonathan tried his best, indeed one of the good president the country has ever produced,those leaving the party are politician who are narrowed minded in their political thinking bringing bad omen to our nascent democracy which need a faster growth to catch up with our other counterpart countries which developed because of good political policies in their mindset".He added
The party chairman in the state who at many times blamed PDP at the national for sowing a seed of failure in the state,but accept defeat to properly grow up the tenants of democracy in the state. Assures the people of the state that PDP is intact, more organized to be a better comfortable opposition party in the state despite defection of some few party members.
To him those defected are surely coming back because there is not going to be comfortability for them in APC,PDP is an umbrella that shelters all and sundry without sentiments of whatsoever kind.
Another PDP loyalist and former political adviser to President Goodluck Jonathan,Barr Ahmed Ali Gulak said he should have been the first person to defects to APC because he us the worst heat in the game ,sustained so many political wounds in all parts of his life,but still standing tall for PDP despite the political cheating and deprivation of his right. He was removed as an adviser to president Jonathan because some people thought he has a close relationship with Goodluck Jonathan and a such he might cage them out of plans,his senatorial ticket was snatched to him to somebody whom they know he will never deliver PDP in the state.
"But bad as is it may be I have never thought of leaving PDP even for a second, I rather remain an opposition man till than kingdom come if that is what God wants it to be". He said
According to him he eats PDP ,he eats PDP and he carry PDP wherever he goes to help in making it a strong opposition party in the country .
He cautioned the likes of Senator Jonathan Zwingina, Dr Idi Hong, the sardaunan Michika Abubakar Kyari to remember the good thing that is PDP made them what they are today, offered them opportunity to be ministers ,senators and handle many portpolios in this country, calling them ingrates politician that do not mean well for our democracy.
Adamu Kamela is the only PDP candidate among the Adamawa state lawmakers won in Michika/Madagali Federal house of representative after a very serious tussles between him and Umar Duhu of APC, admonishes those defected and those thinking along that line should not do so because of the country's democracy is still struggling to stand strong.
Kamela said any country that practice democracy as form of their governance, developed to a level its because they allowed opposition in parallel to checkmates the activities of those in power, without opposition in any act of leadership I assure you there will not be orderliness and serious development. To him decampees are enemies of democracy and development most especially in Adamawa state.