Another Buhari supporter starts pre-inauguration walk from Yola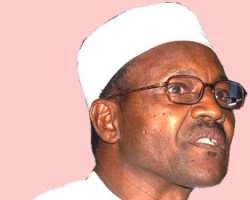 A supporter of President-elect Muhammadu Buhari, identified as Abubakar Duduwale, has set for a walk from Yola in Adamawa State to Abuja.
He told newsmen in Yola on Saturday at the ouset of the walk that the adventure was to express his joy over the emergence of Buhari as president-elect.
Duduwale, from Yola North Local Government Area of Adamawa State and Chamba by tribe, reportedly began the journey at Yola Gate on Yola-Numan highway at about 6.30am.
He said he had wanted to start the journey a day after the Independent National Electoral Commission announced Buhari as the winner of the March 28 presidential election, but noted that somebody from Lagos pre-empted him.
'The reason why I am trekking from Yola to Abuja is to express my joy and solidarity with President-elect Muhammadu Buhari.
'I want to trek from Yola to Abuja to witness the inauguration ceremony of President-elect,' Duduwale said.
The News Agency of Nigeria recalls that Suleiman Hashimu, a supporter of Buhari, had earlier undertaken such walk from Lagos to Abuja, which he concluded recently. NAN