Independence Day Bomb Blasts: Court admits exhibits against Okah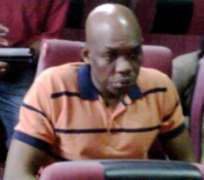 In his evidence-in-chief, the witness said that the items were retrieved by DSS investigators at the 'scenes of investigation' into the bombing incident.
The first exhibit admitted by the trial judge, Justice Gabriel Kolawole, was a list of items which Afolabi said were retrieved during the investigation conducted  by the DSS.
Among the exhibits are a tan old Mazda 626 car with registration number LAGOS BY 318 FKJ and other military wears and camping materials.
The other exhibits are 10 camouflage bullet-proof jackets; 30 black military belts; 21 black jungle boots; five green pairs of camouflage jungle boots; five pairs of brown camouflage jungle boots and 34 pairs of water bottle holsters, among others.
Justice Kolawole had to move the proceedings out of the courtroom to the car park on the court premises for inspection and the tendering of the car exhibit.
The car which was in a bad state with all its four tyres torn and already revealing their internal strings, was towed to the car park from the DSS national headquarters in Abuja before the proceedings began.
The judge discountenanced the objection of the defence to the admissibility of the exhibits.