DAIMLER, NISSAN AND RENAULT ANNOUNCE THREE-WAY TIE-UP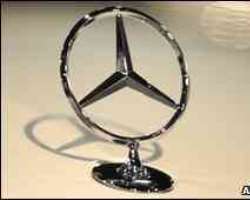 German carmaker Daimler is to give Renault and Nissan a 3.1% stake in its business as part of a global tie-up of the brands, it has been announced.
In exchange, Daimler will take a 3.1% stakes in both Renault and Nissan, who have been in an alliance since 1999.
The deal will see the companies remain separate, but allow them to share technology and development costs.
The carmakers will co-operate to make electric cars and light commercial vehicles, Nissan said.
Commenting on the deal, Daimler's chairman Dr Dieter Zetsche said it was "a promising foundation" that would allow the companies to share resources.
"Our skills complement each other very well," he said.
"We know that we can make brand-typical products based on shared architectures. The individual brand identities will remain unaffected."
The name of the game is to be present everywhere
Carlos Ghosn, Chairman and chief executive of the Renault-Nissan Alliance
The companies will co-operate on the development of the Smart car brand – made by Daimler – and a new Renault Twingo, including electric versions, the companies said.
Engines currently made by Renault-Nissan will also be modified to fit a new range of compact Mercedes Benz cars.
The companies said that the cars would be based on "jointly-developed architecture", but would still differ from each other in terms of product design.
Benefits of scale
Carlos Ghosn, chairman and chief executive of the Renault-Nissan Alliance, said the new tie-up would be able to benefit from Renault and Nissan's positive experience.
"The Renault-Nissan Alliance knows how to work successfully in collaborative partnerships," he said.
Speaking to reporters, Mr Ghosn said the modern car market demanded that manufacturers enter into these types of agreements.
Carlos Ghosn says alliances are the future for the car industry
"This industry is moving more and more towards increasing scale, and sharing innovation and investment," he said.
"The name of the game is to be present everywhere. You have to be present in all of the emerging markets, and in every segment in those markets."
"No small or medium car manufacturer can afford that."
Renault and Nissan formed their alliance in 1999 based on cross-shareholding similar to the new deal with Daimler.
The alliance was credited with helping Nissan, in particular, turn its finances around.
Based on 2009 sales figures, Renault-Nissan is the fourth-biggest car maker in the world, with annual sales of 6.1 million.
Mr Ghosn added that he expected the alliance to expand even more in the future, and that the companies would continue to talk to other carmakers about possible tie-ups.
The bosses of the two groups also said they expected to see savings of about 2bn euros (£1.76bn, $2.68bn) as a result of the alliance over the first five years.