Support President Jonathan To #RejectConstitutionalChange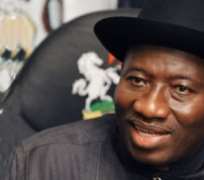 Why is the Nigerian Senate suddenly in a hurry to get this bill signed? What is the urgency of this amendment and why are our legislators so desperate they even threatened to impeach president Jonathan at this last hour if he does not sign it?
These are the questions many of us ruminated over but not for long because the shame of those we call our legislators across both parties was exposed once again. Attorney and activist Femi Falana has again stood on the right side of posterity and exposed the corrupt blackmailers, clogs in the wheel of progress.
Anytime we hear our legislators threatening to impeach the president, it is not in the interest of Nigeria but in their interest. I can cite a dozen instances this happened. The minute we read the 'impeach' threat we knew what was involved was personal to the intoxicated senators.
Our 'legislators' want to be paid for life for a job they do not do...and when they do, all they end up getting done is increasing their benefits and allowances and depriving us masses of life.
Hear them; the worlds highest paid, least working senators want to be paid the outrageous wage for life. Are they not afraid? Do they not have anything left of a conscience?
They want life immunity because they are thieves. Upright people fear not justice.
And they are in a hurry to make these changes and have them sealed before Buhari/Osinbajo and the new government resumes offices.
Nigerians must stand up and reject these constitutional changes. At this last hour these people only think of themselves and dare to suggest a last minute impeachment they never delivered for six years, because they love themselves this much and hate Nigeria.
#RejectConstitutionalChange
Dr. Peregrino Brimah; http://ENDS.ng [Every Nigerian Do Something] Email: [email protected] Twitter: @EveryNigerian
Disclaimer:

"The views/contents expressed in this article are the sole responsibility of

Perry Brimah, Dr.

and do not necessarily reflect those of The Nigerian Voice. The Nigerian Voice will not be responsible or liable for any inaccurate or incorrect statements contained in this article."
Articles by Perry Brimah, Dr.