Just spoke to JOE MARTINS UZODIKE,DIKE UDO ANAMBRA STATE .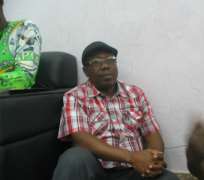 He said that it's not surprising that this children do not have respect for clean and good records,he said that from the childish rant on ABS this morning that the only one worthy of rebuttal is,where they said that JOE MARTIN'S UZODIKE as commissioner of information bought GENERATOR for ABS and it packed up within 3 months .
He said during the campaign for gubernatorial contest that ABS came to him and ask that he should approve for them to buy 2 Generators that will help them to be on AIR un interrupted 24\7.ABS brought the quotations they generated and ask him to sign it for them to enable them buy it .
Joe martins took the file to HIS EXCELLENCY ,His Excellency now said that it will be best if ABS should buy the Generator from CALTEK who is the biggest Generator importer in Onitsha ,so they called CALTEK who gave them quotations that is 2 million naira less than what ABS brought,so Joe Martins advised them to buy from CALTEK,who will also consider payment flexibility.
They bought 2 generators ,paid for one and one on credit. After the election,Joe prevailed on the Governor and he paid for the 2 gen sets .
Chief Uzodike said he wasn't involved in the buying ,negotiations or any other lot about the ABS generator .
He advise this disciples that allow self to be used in insulting those that paid the price, to be wise because this same measure meted out to others will always go round .Oderaigbo