New Police IG holds closed-door meeting with Jonathan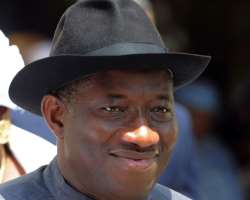 The acting Inspector-General of Police, Mr. Solomon Arase, on Thursday met behind closed-doors with President Goodluck Jonathan at the Presidential Villa, Abuja.
Arase told State House correspondents after the meeting that he was at the Presidential Villa to brief the Commander-in-Chief on the level of the police's preparation for the states where the Independent National Electoral Commission will be holding supplementary elections.
According to the new Police boss, the police had started what he called massive deployment of men and materials in the affected states.
He assured those who will conduct themselves within the ambit of the law during the electoral process adequate security.
He however added that those who may want to breach the peace during the exercise will be dealt with decisively.
Arase said, 'Well, first and foremost, we still have some elections left in about three states and we are doing some massive deployment of men materials.
'That is what I came to brief the Commander-in-Chief.
'I can assure you that we are going to have a level playing field for people who want to vote on Election Day.
'The deviant, like I said yesterday (Wednesday) will be decisively dealt with.'
Thursday's meeting was Arase's first meeting with Jonathan since he formally took over from his predecessor, Mr. Suleiman Abba, on Wednesday.
The President had on Monday sacked Abba who was appointed the IGP about nine months ago and named Arase as his replacement.
It will be recalled that INEC has scheduled supplementary elections for Abia, Imo and Taraba States.