FLOODING IN RIO DE JANEIRO STATE KILLS SCORES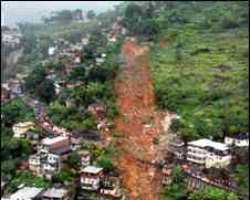 At least 95 people have died in the Brazilian state of Rio de Janeiro after the most torrential rain for decades caused landslides and flooding.
A state of emergency has been declared and officials have warned the death toll may rise as many more are missing.
At least 33 people died in Rio de Janeiro city after 28cm (11in) of rain fell in 24 hours, while 33 were killed in the neighbouring city of Niteroi.
Many houses in Rio's hillside shanty towns were buried under mudslides.
Rescue teams have been scouring the city's hillsides to find missing people and recover bodies buried under the mud.
With no let-up in the rain, President Luiz Inacio Lula da Silva has urged residents to leave their homes if they are at risk of flooding.
Otherwise, the authorities have told people to stay indoors and avoid travelling around the city.
Chaotic situation
Authorities say the city of Rio de Janeiro's transport system is close to collapse, after traffic ground to a halt with many streets under water. ANALYSIS
Paulo Cabral
BBC News, Rio de Janeiro
The rain is not so intense but the risk of new landslides remains high, as the soil of the hillsides is extremely wet. Most of those who died were people in the hillside slums where waves of mud came down destroying everything in their way.
The topography in Rio exacerbates these types of problems. It's one of the most beautiful cities in the world because of the mountains in the middle of the town, but it can get nasty when it rains.
Ten years ago a census found 12,000 people lived in high-risk areas, but there have been new developments since then so the number is probably much higher.
"The situation is chaos," Mayor Eduardo da Costa Paes said in a statement on Tuesday. "All the major streets of the city are closed because of the floods.
"Each and every person who attempts to enter them will be at enormous risk," he warned.
Mr Paes said the preparedness for heavy rainfall in Brazil's second-largest city – which will host the 2014 World Cup and 2016 Olympic Games – was "less than zero".
Public schools will remain closed until at least Friday.
State governor Sergio Cabral meanwhile declared a state of emergency and urged people in high-risk areas to leave their homes.
He told TV Globo that to stay inside would be "irresponsible" given the risk of new landslides.
The victims of shanty town landslides in the city of Rio de Janeiro included a five-month-old baby and a nine-year-old child, officials said.
Rio de Janeiro has experienced a particularly hot and rainy summer
Flooding left another 12 people dead in Sao Goncalo, and one in Petropolis.
The continuous rainfall also forced Santos Dumont airport, which handles domestic flights, to close for two hours on Monday night, causing a number of delays.
Many cars were left abandoned on main roads throughout the city.
The head of Rio de Janeiro's civil defence department told TV Globo the amount of rain that had fallen was "more than any city is capable of supporting".
Paulo Marqueiro, a reporter for the newspaper O Globo, told the BBC it was like the city had "collapsed".
Houses had been brought crashing down by the floods and landslides, and there was no public transport whatsoever, he said.
'Pray to God'
BBC News website reader Antonio Queiroz Junior said it had started raining after 1700 (2000 GMT) on Monday, during the rush hour. It started raining after 5pm, right in the rush hour when people were trying to get back home from work. It hasn't stopped raining since then
Antonio Queiroz Junior
In pictures: Rio de Janeiro floods
Rio floods: Your comments
"It hasn't stopped raining since then," he said. "This is the worst storm in decades."
He added: "The city has been abandoned by our government. The current situation is unacceptable, with so many people getting killed because of the rain.
"Everybody knows the danger of living in the hills, and the government does nothing to stop more and more people building houses there."
Another reader in Rio de Janeiro, Duncan Crossley, said he had witnessed Rio de Janeiro "on the brink of collapse".
He said the power had been cut in his neighbourhood at about midday, and that the storm had brought down huge trees, which along with the flooding were blocking major traffic arteries.
"The streets were thick with mud," he wrote. "The city reminded me of a war zone."
Civil defence authorities in Rio have issued an alert for landslides
President Lula, who was visiting the city on Tuesday, blamed local officials for not enforcing adequate building standards in areas prone to landslides, particularly in shantytowns.
"All we can do is pray to God to hold back the rains a little, so that Rio can return to normal, and so that we can set about fixing the things in the city that need fixing," he told local radio.
The president said the work would include improved drainage systems.
Rio de Janeiro state has experienced a particularly hot and rainy summer this year, and meteorologists have forecast more rain in the coming days. However, correspondents say heavy rain is more common in January than in April.
In January, at least 39 people were killed by mudslides in the resort area of Angra dos Reis, half way between Rio de Janeiro and Santos.