APC heads for tribunal to challenge Kashamu's victory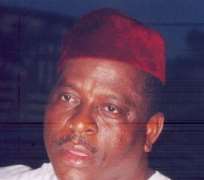 The candidate of the All Progressives Congress (APC) in Ogun-East senatorial district, Dapo Abiodun, has filed a petition before the state National Assembly Election Petitions Tribunal to challenge the victory of the winner, Buruji Kashamu.
Kashamu polled 99, 540 votes to defeat eight other candidates. Abiodun was the first runner-up in the election while Adegbenga Kaka of the Social Democratic Party was the second runner up.
In the petition, Abiodun argued that Kashamu was not qualified to contest the election and that he did not score the highest number of lawful votes as required by law.
The petitioner, who said he would rely on form EC8E (1) to prove his case, further alleged that Kashamu and his party, the Peoples Democratic Party, the Independent National Electoral Commission and the state Resident Electoral Commissioner, who were joined as the 2nd, 3rd and 4th respondents respectively, failed to comply with all the electoral laws.
The petition read, 'The election of Buruji Kashamu is invalid by reason of substantial non-compliance with the provisions of Electoral Act 2015 (as amended), the manual for Election Officials 2015, the guidelines issued for the conduct of the election.'
'The election of Kashamu is invalid by reason of corrupt practices and electoral malpractices perpetrated by the first respondents in person and members and agents of the 1st and 2nd respondents in the places mentioned in this petition.
'Kashamu was not qualified to contest the election.'
Abiodun urged the court to nullify all the results from polling units and wards where the requisite forms were not completed, dated, signed or stamped by the concerned officials.
However, the media aide to Kashamu, Austin Oniyokor, had earlier said in a statement that his principal was prepared to meet any petitioner at the tribunal, describing the APC's allegation of rigging as unfounded.
The statement read, 'The claims by the APC are totally unfounded. Ordinarily, we would not have dignified them with a response. You can see that the statement is lacking in substance. If they say there were rigging, intimidation and manipulation during the election, they should supply the details, rather than hiding under some nebulous excuses that say nothing.
'At any rate, the Electoral Act has made provision for the ventilation of issues arising from an election. They should go to the tribunal to prove their case.'' - Punch.