US Lauds Nigeria Over Credible & Peaceful Election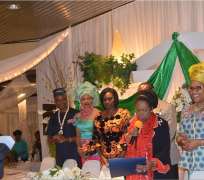 The United of America has congratulated Nigerians over the peaceful conduct of the recent general elections. The US government said President Goodluck Jonathan deserves commendation for not only setting up a dependable electoral mechanism that promoted credible and acceptable elections throughout the country but offered to concede defeat to the opposition party candidate, General Muhammadu Buhari, for democracy and peace to thrive in the country.
Speaking during the Akwa Ibom State Association of Nigeria, USA INC. (AKISAN) Convention in Houston Texas,aMember of the U.S. House of Representatives from Texas's 18th Congressional District, Mrs. Sheila Jackson-Lee said Nigeria's steps towards enshrining democracy was undoubtedly, exemplary.
"The whole world agrees that though there are growing concerns about Nigeria being portrayed in the negative light due to the actions and inaction of a few selfish individuals, Nigeria has proven to the world that it is leading by example, promoting peace and tolerance in Africa.
The United States of America is very proud to see the democratic progress in Nigeria under the leadership of President Goodluck Jonathan. The recent election was adjudged by President Barack Obama and other world leaders as fair, peaceful and credible." Mrs. Jackson-Lee asserts.
The Congress woman urged Nigeria to continue to lead by example even as she described Nigerians as peace-loving people and urge the coming leader, General Muhammadu Buhari to promote education, establish good health facilities for the country and tackle the terrorist activities by Boko Haram. She said the kidnapping of over 200 girls and by the terrorist group was a stigma to human conscience and urge Nigeria leaders to do everything to ensure the release of the girls.
Ms. Jackson-Lee used the occasion to praise President of United States of America Mr. Barack Obama for ensuring freedom, equality and justice for all Americans and the immigrants living the United States, urging Nigeria and America to work together to promote justice and freedom.
One of the high points of the occasion was the award of certificate of recognition given to the Akwa Ibom People of Nigeria under the umbrella of AKISAN by the United States House of Representatives.
SHEILA JACKSON-LEE AND AKISAN EXERCUTIVES...
SHEILA JACKSON-LEE