IGP Abba: The End Of Another Messy Era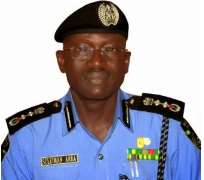 President Good luck Jonathan has reportedly sacked the Inspector General of Police Mr. Suleiman Abba and has already made a replacement with the announcement that he has appointed Deputy Inspector General of Police Mr. Solomon Arase as Acting IGP with immediate effect, according to a tweet by Dr. Reuben Abati, the spokesperson of the president.
In the release the Presidential spokesman recalled that the Jigawa state born Suleiman Abba, NPM, NPOM, mni was the 17th Indigenous Inspector-General of Police and was appointed by President Goodluck Ebele Jonathan, GCFR.
He ABBA it would be recalled formally took over on August 1, 2014 officially from former Police boss,IGP MD Abubakar (Rtd) who had piloted the affairs of the Force from 25th January, 2012 when he was appointed to July 31, 2014, having completed 35 years of service.
Abba Suleiman who hails from Gwaram Local Government Area of Jigawa State holds university degrees in History and Law and has reportedly attended several management and security courses within and outside Nigeria. He is an alumnus of the National Institute of Policy and Strategic Studies, Kuru, Jos.
Well, speculation were rife in the grapevine that the just disgraced police chief fell out with his commander-in-chief for reportedly disobeying an unlawful order to withdraw police operatives from the Presidential election's collation center at the international conference center Abuja to enable those who intended to disrupt the announcement of the results to successfully execute their dare- devil plot when it became apparent that the opposition candidate was having upper hand as the results were reeled out instalmentally.
Erstwhile Niger delta minister Mr Godday Orubebe widely lampooned for his shameful act of disrupting temporarily, the proceedings at the Collation center has however dismissed the rumour as tissues of lies. Observers say the coincidence of the removal of the IGP to the rumour of his breach of the alleged PDP'S plot was too close to call.
A foreign news agency even circulated a story without attribution that Mr Orubebe intended to 'kidnap' Mr. Attahiru Jega the chief electoral umpire suspected of playing the Northern agenda. This syndicated report never cited any reliable news source.
Funnily, those who now wants to make a hero out of Mr Suleiman ABBA the sacked police chief conveniently forgot his shameful misconduct at the twilight of his reign when he directed the commissioner of Police in FCT to stop the Speaker of the Federal House of Representatives Mr Aminu Waziri Tambuwal from accessing the green chambers because he cross carpeted to the opposition APC from the ruling PDP.
Then he claimed that a previous court order has ruled that defection should be punished with expulsion from the national or state legislature. People who bandy false stories weaved around some conspiracy theory on the sack of the IGP also forgot that under the last IGP police discipline nosedived to a very shameful dimension to an extent that erstwhile police commissioner in Rivers State Mr Mbu openly sabotaged the authority of the governor of that state Mr Rotimi Chibuike Amaechi just because the governor is in a political combat with the President and his wife Mrs Patience Jonathan.
Under the nose of Mr Suleiman the police operatives in the South East and most parts of Nigeria went hey wire with open extortion of road users even as extrajudicial killings in police detention centers became common place because the trigger happy police rogues who shoot and kill innocent members of the public or even persons in conflict with the law know that it is an official policy to waste suspected armed robbers arrested because again in their warped imagination there was really no need taking the suspects to courts since they could end up been freed only for them to come back for the police operatives that nearly put the robbers out of circulation in the first place.
The last IGP took no decision nor did he enforce any internal mechanisms to clean up the messy moral deficits weighing down the nation's policing institution. Under him the police in the North East of Nigeria became almost extinct following series of bombardments by armed terrorists who raided police armouries for arms and ammunition.
Under the last IGP a former divisional police officer in Enugu indicted for alleged kidnapping and murder and declared wanted by an Enugu state magistrate court was not only reinstated into the police force where he went AWOL (absent without leave) for years but he actually got promoted as assistant commissioner of police and posted to Umuahia as provost - a position that should be occupied by an officer without blemish or such a heavy criminal indictment by a law court. Was it not under Suleiman 's watch that armed robbers in Lekki Lagos on the day President Jonathan was visiting Lagos raided a commercial bank and slaughtered several police operatives and innocent passers by?
The police under the last IGP became anything but professional and so the appointment of a replacement for this less than impressive former IGP should serve as a tonic for a total personnel reforms and fundamental structural and architectural reforms of the crime fighting capacities of the men and officers of the nation's police. Solomon Arase must make his mark without further waste of time because he has to restore public trust and confidence in the Nigerian Police Force because a policing institution bereft of public trust is as good as dead. He has to enforce strict disciplinary measures and prosecute erring officers who commit crime against humanity such as extra legal executions.
He has to clean up the mess that is the police formations all across the country and ensure that police stations stopped been used as brothels whereby female detainees are wantonly and systematically raped by senior police officers. There is no doubt that virtually all police stations and barracks are in such a dirty environmental situation to an extent that diseases are spread from these outlets.
He must clean up the police and rebuild it to make the operatives become people friendly and professionally competent just as he has to strengthen the human rights desk and promote it into a full fledge department. The sack of IGP Suleiman marks a watershed in the policing history of Nigeria as it will be remembered as another messy ERA whereby police chiefs took unlawful orders like zombies just so their political bosses would be happy with them. Let no one deceive Nigerians with adulation that Suleiman ABBA achieved any major feat in as much as he paraded a string of good graduate certificates. The truth is that his remains a messy ERA.
*Emmanuel Onwubiko is Head of Human rights Writers association of Nigeria and blogswww.rightsassociationngr.com; www.huriwa.org, www.huriwa.blogspot.com..
Disclaimer:

"The views/contents expressed in this article are the sole responsibility of

Emmanuel Onwubiko

and do not necessarily reflect those of The Nigerian Voice. The Nigerian Voice will not be responsible or liable for any inaccurate or incorrect statements contained in this article."
Articles by Emmanuel Onwubiko