State Security Service Pick Up Editor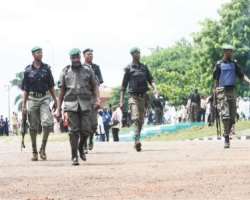 Abuja (THEWILL) - The State Security Service (SSS) on Monday morning picked up Ahmed Shekarau, the editor of Peoples Daily, a newspaper based in Abuja.
Abdullzeez Abdullahi, a colleague of Mr. Shekarau, stated that three officers of the SSS came to pick up Mr. Shekarau saying " the Director General wanted to have a chat with him." No further details were given.
Abdullahi said; "Our belief however is that the invitation may be over the story of the succession battle for the VP's slot in the event that Goodluck Jonathan becomes president. The story was published last Friday."
"The Public Relations Officer of the SSS, Maryln Ogah said she would get back to us with some information but still hasn't done so and is not picking calls to her phone," he said.
|
Article source