Contaminated ogogoro caused Irele deaths - FG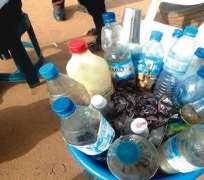 The Federal Government yesterday declared that it was on top of situation of the outbreak of a strange killer disease in two communities in Ondo State, linking it to consumption of contaminated local gin by the victims.
Minister of state for Health, Mr. Fidelis Nwankwo, who said this in Abuja, added that preliminary laboratory investigations indicated that the outbreak cannot be attributed to any infectious organism (bacterial or viral).
''The Outbreak is also clearly not due to Ebola Virus Disease, as feared by many. The minister added that, 'We therefore believe that the situation is under control and that the stability will be sustained, while active case search and contact tracing continue in earnest,' he said.
According to him, 'News of the occurrence of sudden illness and death of people spread in Nigeria and beyond our shores in the week that just ended.
The illness was thought by many to be Ebola Virus Disease or similar virulent infectious disease leading to widespread apprehension among members of the public, particularly those living in proximity to the two affected communities - Ayadi and Ode-Irele in Irele Local Government Area of Ondo State.
'The victims of the illness are males between the ages of 22 and 75 years. They mostly exhibited headache, blurring of vision, sudden blindness, loss of speech, unconsciousness and sudden death within 24 hours. ''At the last count, 18 of the 23 cases have died.
'The remaining five are receiving treatment at University College Hospital (UCH) Ibadan.
'The epidemiological system detected the outbreak and promptly notified the Federal Ministry of Health in accordance with standard public health practice.
The Federal Ministry of Health, Nigeria Centre for Disease Control quickly deployed experts to support Ondo State Ministry of Health in rapid response operations.
'Preliminary Laboratory investigations indicate that the Outbreak cannot be attributed to any infectious Organism (Bacterial or Viral). The Outbreak is also clearly not due to Ebola Virus Disease, as feared by many.
'Epidemiological findings indicate a strong linkage of the outbreak with the consumption of a local gin that may have been contaminated with methanol (poisonous material).
'At this stage, the particular poisonous substance (Toxin) is being ascertained.
The results of these detailed investigations currently being conducted by government and partners are still being awaited and will be made public as soon as possible.
'The assuring news however, is that no new cases have been reported in the past 100 hours and no new mortality in the last 72 hours. We therefore believe that the situation is under control and that the stability will be sustained, while active case search and contact tracing continue in earnest.' Vanguard