Buhari vows to continue war against Boko Haram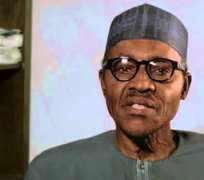 The President-elect, Maj. Gen. Muhammadu Buhari (retd.), has vowed that his government will not terminate the collaboration between Nigeria and her neighbouring countries of Cameroon, Niger and Chad to combat the Boko Haram insurgency.
Buhari gave this promise during a visit to him by the government and people of Borno State, the state hardest hit by the Boko Haram menace.
The state delegation included  Governor Kashim Shettima; the Shehu of Borno, Alhaji Abubakar Elkanemi; and some elders from the state,
According to a statement on Monday by the Special Adviser to state Governor on Media, Mallam Isa Gusau, the president-elect said he was very much aware of the problems of the North-East and would not toy with the anti-terror war.
Gusau said Buhari, during the visit, which was on Sunday, promised that his administration would enhance collaboration with neighboring governments of Chad, Niger and Cameroon to curtail the trans-border movement of Boko Haram insurgents, cut supply of arms, cut recruitment and training of fresh recruits.
The president-elect, according to him, said stability of the North-East is a 'must project' for his administration, saying that nothing can be achieved unless peace is restored to the troubled region.
He also promised to focus on reactivating the Lake Chad in addition to deploying enormous resources in the search for crude oil along the Chad Basin in parts of Borno State.
The president-elect also assured the delegation that the receding Lake Chad would be addressed through the transfer of water from the Central African Republic to the lake to boost commercial activities for fishing and irrigation farming.