African Tech Space: Opportunities For Youths To Excel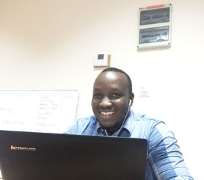 The technology space is particularly notable for the amount of entrepreneurial activity it attracts. The current rise of new entrepreneurs in Africa's tech industry is creating economic uplift and increased GDP and myriad of opportunities especially for the tech savvy youths.
Famed business consultant Peter Drucker, defined an entrepreneur as someone who seeks change, responds to it, and exploits it as an opportunity. Further defining entrepreneurship, Austrian-American economist Joseph Schumpeter views entrepreneurship as a force of "creative destruction." According to Schumpeter an entrepreneur creates "new combinations," thereby helping render old industries obsolete. Entrepreneurs are individuals who strive to make their business the most dynamic of any business within a market. They are trend-setting individuals with a unique perspective; they are key players and game-changers.
While the likes of Bankole Cardoso, CEO of EasyTaxi Nigeria, Clarisse Iribagiza, CEO of HeHe Limited; Nigeria's first Information Technology Youth Ambassador, 'Gbenga Sesan; and female ICT guru, Farida Bedwei studied Computer Science, Engineering, and other ICT related courses, there are so many smart people in the continent's tech space that a lot of us do not know about.
22 year-old Ahmad Mukoshy who has been in the frontline of web development in Nigeria; Francis Onwumere, Co-Founder of Prowork – a team Collaboration web application, among others have unleashed innovative game changing ideas that have made them a force to reckon with in the industry despite stumbling into the tech space.
A good example of this rare gem is Mohammed Iyamu, CEO, MeM Motors and Head of Operations, Carmudi Africa.
Mohammed Iyamu is a 24 year old graduate from the department of Business administration from the University of Lagos. He is the owner of Mem motors and works with Carmudi as the Head of Operations Carmudi Africa. He also owns a mini transport business which he recently started.
History
He started his business while he was waiting for admission into the university. He loved cars and developed himself learning about them in his spare time. He was able to meet car dealers who wanted to sell their cars. He bought a smart phone, took pictures of the cars and uploaded them on free websites such as Nairaland and Facebook. He was paid a commission when he sold a car.
Challenges and Solutions
He faced a lot of challenges because of lack of trust. People were reluctant to buy cars listed online due to the issue of fraud. He decided to build personal relationships with the car dealers and expand his customer base with referrals from family and friends. In the end he was able to create a trusted brand.
Journey into Carmudi
He was sort after due to his knowledge of cars. At first he was writing about cars for the company part time and when Carmudi decided to expand he was offered a sales position in the company. He spent his time selling Carmudi to car dealers.
From salesman to Head of operations Africa
Because of his sales and customer relations skills he was made head of retail sales and the head of sales Nigeria. After months of hard work and dedication and his knowledge of the automobile market he was promoted to Head of Operations Africa. His duties involved overseeing the activities in all Carmudi Africa ventures understanding the specifics of each country and providing solutions to the challenges they may be facing as a trusted business. He also actively oversees the websites and ensures that technical issues are fixed immediately.
He has travelled to many Africa countries since he resumed this position and experienced the business environment.
Advice
Patience is s virtue. It took him a long time to sell his first car and before long the market became saturated with other people trying to do the same thing. One thing that stands him out from the rest is his wiliness to put his customers' first. He has mechanics on standby to inspect cars and registers every car sold with car workshops where the owners enjoy one year free service.
His love for cars and his determination to learn about them offered him the opportunity to grow his business and to be part of the Carmudi family. He ensured he had the knowledge and skills so that he could make use of the opportunities that may present its self.
Curled from Brand Arena Blog