Christians Must Stand For God's Principles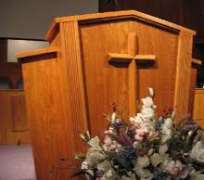 Akwa Ibom Governor, Chief Godswill Akpabio, has enjoined Christians in the country to maintain a life of purity when they present gifts to God for such to be accepted in Heaven.
Akpabio made the call Sunday during the dedication and centenary celebration of Methodist Church Nigeria, Ukana Ikot Ideh (Uduakabasi circuit) in Essien Udim Local Government Area, remarked, "Christians must keep their hands clean when presenting gift to God for it to be accepted in Heaven. For presenting gifts to God with clean hands attracts blessings from God".
Congratulating the Chief of Staff to the Governor, Sir Etekamba Umoren for building the church, remarked,"The good works of one would be rewarded by God. Sir Umoren had a experience of service that was why he was appointed as a Permanent Secretary and latter as a Chief of Staff. So, I must thank him for his services to the state and for supporting my administration.
"His presentation of a church edifice to God would abound a lot of goodwill in Heaven and God shall reward him mightily", he said.
The governor remarked that the purpose of the service was to give glory to God for what He has done for the state, stressing that if it has not been the Lord who was with the state, the uncommon transformation of the state would have been impossible.
Akpabio also thanked God for the life of the parents of Sir Umoren and prayed that the Lord would strengthen them and make them see more fruits of their labour.
Addressing guests at the event, Sir Etekamba Umoren who was accompanied by his wife, Gloria thanked God for His numerous upliftment in his civil service career, and thanked Governor Akpabio for pushing him hard to be a better person in the course of working for him, describing the governor as a detribalized person in the appointment of persons to various positions.
Umoren also commended the state Governor for developing his entire village, being large hearted and for having the people always at heart.
He then thanked all those who saw to his elevations while in the civil service, his wife, family and his parents for their support to what he has become in life.
The Prelate of the Methodist Church of Nigeria, His eminence, Dr. Samuel Chuwkwuemeka Kalu Uche in his homily speaking on the theme "A Generous Giver" described the church edifice by Sir Etekamba Umoren as wonderfully constructed, designed and magnificent, thus symbolizing light, development, unity and peace.
Dr. Uche thanked Sir Umoren for providing a major road to the church, his wife, Lady Gloria for supporting him in building the edifice, stressing that he married a wife with the right heart and that with the edifice they have given to God, light would come to them and the glory of God would never depart from their family.
He also thanked Governor Akpabio for transforming the state through development, which he said has translated to the wonderful edifice of the church, pointing out that Isaac in the Bible made sacrifices to God by way of showing gratitude to Him for blessings God bestowed upon and that led to numerous blessings to him and his household.
His Eminence, Uche therefore called on the people of the state to be cheerful givers just as the Lord Jesus Christ directed and to learn how to sow generously to God to attract more blessings that would come in numerous forms, stressing that God appreciates His children who return thanks to Him.
The Prelate also called on the people of the state to learn from the state governor on how to transform the society by touching lives of people around them positively.
Also speaking, the Governor-elect, Mr Udom Emmanuel, who was represented by his Deputy, Sir Moses Ekpo pointed out that Sir Umoren loves people, appreciates people, works for people and has impacted positively on the lives of people.
Emmanuel also thanked the parents of Sir Umoren who are still alive for giving birth to him and for making him what he is today, hinting that the next administration would centre, begin and end with the church, which is their constituency.
Thereafter, Governor Akpabio flanked by his wife, Ekaette and members of the clergy inaugurated the church to God's glory.