Fayose not inciting anyone, APC lawmakers afraid of the people - Aide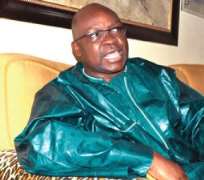 Special Assistant to the Ekiti State Governor on Public Communications and New Media, Lere Olayinka has described as false, claim by the impeached former Speaker of the State House of Assembly, Dr Adewale Omirin that Governor Ayodele Fayose was inciting the people against the APC lawmakers.
He said; "The reality in Ekiti State today is that the people are rising up to defend their mandate and if Omirin and his APC lawmakers are not working against the people's mandate, they have nothing to fear."
Olayinka said the APC should rather ask themselves what they have done to offend the people to the extent that none of the lawmakers, who sought reelection was reelected at the April 11 election.
He asked whether it was Governor Fayose that incited the people against the APC on March 28 and April 11 when the people openly rejected the party with their votes.
The governor's aide, who reiterated Governor Fayose's commitment to peaceful resolution of the crisis in the State House of Assembly, added that; "The governor cannot stop the people who voted for him from protecting their mandate."
He said further; "Some of these people who called themselves elites were in the comfort of their bedrooms in Lagos, Ibadan, Abuja and abroad when okada riders, traders, drivers, workers, artisans, students and all the common people of Ekiti stayed in the sun and rain to cast their votes for Governor Fayose.
"So because Fayose wants peace and he is committed to it, those who gave him the mandate to govern them for four years should not defend their mandate if it is being threatened by a few people who they have rejected with their votes?
"Instead of making noise in the media, the APC lawmakers, including Omirin and those deceiving him with the prophesy of him becoming acting governor of Ekiti State should face the reality of their total rejection by Ekiti people and stop runing from Idanre to Lagos, Osogbo and Abuja trying to uproot the tree planted by the people of Ekiti."