METU, OKEWULONU ARE A DISGRACE TO IGBO NATION - IPA
...WARNS THEM TO LEAVE IMO GOV AND DEPUTY ALONE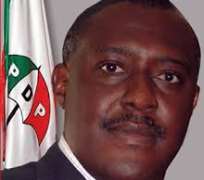 The Imo Progressives Alliance have taken a swipe at the Imo chapter of Peoples Democratic Party, Olisah Metu and Okewulonu, the PDP National Publicity Sceretary and the Director General of Emeka Ihedioha Campaign Organization respectively describing them as a disgrace to Igbo nation and political spent forces.
In a statement signed by the Coordinator of the body, Chief Ifenayi Ekenasi, they group read with dismay in a local tabloids (name withheld) of Friday, April 17, 2015 edition over an unfounded malicious allegation of ballot snatching leveled against the Deputy Governor of Imo State, Prince Eze Madumere.
The group however described Madumere as a role model who by all standards has remained untainted by dirty politicians like Olisa Metu, Chris Okewulonu and their co travelers.
The group called on the Peoples Democratic Party and their comical spokesmen whom they described as lying-snake-angels to bury their heads in shame for their wanton criminal role during the last guber elections in Imo State, while advising them to stop the unmitigated attack on the Governor and Prince Eze Madumere.
Reading in part, "Olisa Metu is well known by us. His dirty antecedents is well known by many. We know his role in connivance with the Resident Electoral Commissioner in the recently conducted elections where he occasioned mayhem, thuggery, ballot snatching and above all the declaration of the election won by Owelle Rochas Okorocha inconclusive.
The group took an exception to the allegation against Governor Okorocha and his deputy Prince Eze Madumere who have in no little measure contributed to the monumental development of Imo State as they are also clearing the PDP mess in Imo State while on the saddle for twelve years.
They further threatened to expose the fraud committed by Chris Okewulonu in collaboration with Ihedioha, which runs close to N100 billion against the people of Imo State and Igbo Nation.
"We have watched with kin interest how twosome of Ihedioha and Okewulonu connived and colluded to irresponsibly rape Igbo land what was to come to them. Okewulonu was the South East representative at the Fiscal Responsibility Commission for five years. His major achievement was to connive with corrupt legislators to misappropriate funds allotted for the development of Imo State and and Igbo land in general"
Continuing, the Imo Progressives Alliance frowns at Okewulonu's brazen 'fiscal rascality' where in concert with Emeka Ihedioha misappropriated funds meant for the capacity development of the people. The Release reading in parts, ... In the face of corrupt practices perpetrated by Ihedioha and other members of National Assembly, we are not surprised seeing them coming together to hatch a banana republic in Imo State.
The organization further reminded Okewuluonu the act of thuggery he perpetrated in Obowo during both the Presidential and Gubernatorial elections. They therefore advised Okewulonu and Metu to first remove the log in their eyes before advising another to remove the speck in his eyes.
The pro good governance group chided Okewulonu for not showing remorse over crime against humanity superintended by his principal, Hon. Emeka Ihedioha whose incitement and wicked desperation for power through his thugs and fake soldiers led to the untimely deaths of innocent Imo sons and daughter.
Speaking further, the body insists that Emeka Ihedioha must face justice for the deaths of many innocent Imolites, saying no blood of any Imolite is worth spilling for power. They group therefore vowed to ensure that Ihedioha and his cohorts who caused the deaths of Imolites must face justice at International Criminal Court.
The group maintained that Prince Eze Madumere should not be falsely and maliciously denigrated by those who are a disgrace to their people in all ramifications and warned them to desist from such childish diatribe or face the wrath of Imo people.