In Adumbration By Mazi Odera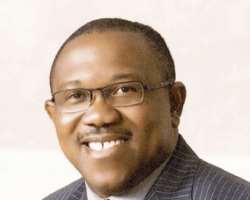 Sir Gregory Peter Obi left APGA because those he gave SPOON to eat suddenly sharpened the spoon into weapon of nghukpo anya [eye bursting weapon],ndi nya na fa na achu nchi si na ukwu ya di ka nke mgbada .
He left a legacy which no other Governor can rival, atleast not in this generation of fom fojue akpa ,he took Governance to an Utopian height ,where only He can reach at it .
Then when he has done what a noble son of the soil ,a man that is sound from center to circumference,a man that is not found wanting in areas of life ,he quietly left the local scene .
He left because the party hireachy demanded that he must leave APGA ,they swore that if he does,nt leave they will bury his political life [though they have been burning millions trying to do just that with the help of NOLLYWOOD producers and ABS TV ] but my old man will always say "ugbana ka etelu unyi na aru.ugbana sacha aru makalia etu odi na mbu" [when they smeared PELICAN with black dust/charcoal ,after bathing self the Pelican became whiter than before].
This is where you can say "anu ana agba egbe ,ona ata chewing gum" and you will be right.
Okwute left APGA and move on to a NATIONAL party ,from the day he left ,he never borthered to look back at the local level ,not because he never wanted to but he always say "I can not rain in another man,s parade" ,he never wanted to drag the center stage with the commanders of local politics .
He left the state with his head held very high and since then, his attention is centered at the central ,moving forward..
Now it pained me to hear some OVER SIZED IDIOTS singing and dancing that Obi did not win Local, sorry state legislative election and i was in askance ? ndi onuru gbana ? ,this is a man who refused to take his disciples including me THE APGA ALAIGBO to PDP [to become PDP ALAIGBO] ,those that begged to move with him he vehementary refused .
It is on record that he can move over 80 percent of APGA faithfuls to any party of his choice but he blatantly refused to do so or support such discussion.That is PETER OBI for you ,a man that believe in Igbo survival and had ndi oso chiegbu not plotted his doom ,i am sure he would,ve stayed in APGA despite all the odds.
I want to put the record straight ,if Obi did not move to another party with the Governor of ANAMBRA STATE which we all know that the incumbent is yet to stand for election in any place ,presently he is enjoying PETER OBI,S third term .
We all know that ,had Obi presented onye na akpu block in that Governoship election that the person will win ,the election was just a THANK YOU to OBI FOR been the BEST OF THE BEST .
So if he can give APGA such platform and name ,if he can leave APGA without collapsing the structure he built from ground Zero when APGA did not have not even one councillor ,and his own mandate was ceeded to Dr Ngige the Governor of Okija shrine .
If he can protect APGA with all his might and muscle ,how then do we think that he can crave to cripple it by taking over the house of Assembly ? ,what i know is that his interest is only sighted on CENTRAL and that was why he moved to FEDERAL and what he wanted is those that can work at Federal level and he got it all and moved on.
He left the local scene for local champions and that was why he did not even lift a finger on the Local scene despite all the provocations from AGU OKA to rile him and spur him into such pissing contest .
Now that he has moved on and create an enable environment to the federal LAW MAKERS and he left the local scene to local Sheriff ,i think what we owe him is gratitude for his magnanimity and with that i am saying OKWUTE ndewooooooooooo and i am off but on .
Disclaimer:

"The views expressed on this site are those of the contributors or columnists, and do not necessarily reflect TheNigerianVoice's position. TheNigerianVoice will not be responsible or liable for any inaccurate or incorrect statements in the contributions or columns here."
Articles by Mazi Oderaigbo