Chief Peter Obi's Indulgence in Denigrating Successor's Office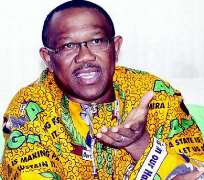 Despite the many public denials of love lost between Governor Willie Obiano of Anambra State and Chief Peter Obi, the ex-governor of the state, the discerning public is not deceived by the apparent subtleties in the utterances of these persons who ordinarily should understand the necessity to save the people from the consequences of an ignoble partisan duel. The consciousness of the governor and his predecessor to manage whatever provisional differences they might have would have either resolved the dispute or suppressed uncouth provocations, but for the enormous energy deployed by Chief Obi's media aides whom he has permitted, or commissioned, to malign Gov Obiano and thereby defame the Office of the Governor of Anambra State.
Mr. Valentine Obienyem, Obi's chief media aide, leading a retinue of Lilliputian claimants to media expertise, is without doubt the spirit behind Obi's tenacity to deplorable media. It is not difficult to place Obi's woes to the unruly mode of managing his media and interpersonal issues. If the truth should be told, Obi's barefaced political miscalculations and turns of failure in recent time are attributable to the emptiness of Valentine's perception of constructive media engagements in politics. Nothing built on falsehood and crass selfish considerations stands the test of time. Obi's fast eroding essence emphasizes this. It is surprising however that Obi has remained content with the pool of falsities and quick recourse to rash and abrasive engagements which Mr. Obienyem has masterfully fed him over the years. Obienyem's media menu for Obi has basically provided the recipe for Obi's political constipation and summersaults.
I sympathize with Obi in this ensnarement to Valentine Obienyem's inherent cantankerous perception of relationships in formal and high places. I actually empathize with him, realizing how deeply he has been soaked in the dregs of Obienyem's devil-may-care Machiavellian pursuits which only ensure security of Valentine Obienyem's job. Being himself ensnared by his Oga's capitalist spell, Valentine perfects the urge to satisfy self to the detriment of all; not sparing his Oga's primary interests. Self, myself and I first at all times!
The above foregrounds Valentine Obienyem's reluctance to see any good in the widely celebrated achievements of Chief Willie Obiano. Instead of applauding the governor's achievements in security, Obienyem was quick to tell us that security of lives and property has ceased to be contentious across the country and that Anambra is merely leveraging on the nationwide drop in criminality. But before us, lives and property are daily lost in their numbers in different parts of Nigeria consequent upon criminal activities.
Obienyem would gloat over the glaring tripartite conspiracy among Peter Obi and his cohorts in the PDP, unpatriotic security persons and shameless INEC workers in robbing Anambra people virtually all the National Assembly seats, only to sulk when the people's votes counted in upholding the supremacy of APGA in the State Assembly election. He would contrive Obi's arrest on the morning of April 11, and defend his non-arrest as a result of the ex-governor's untouchable status in the context of Nigeria politics. Does the emergence of Buhari as the President-elect mean nothing to Valentine as he launders his Oga's superman image? Yet, Obi's conclusion to jump ship to APC has elicited weak defence from Obienyem. Obienyem's denials merely serve as smokescreen to shield Obi's underhand machinations to protect himself from his unwholesome past acts in state and national politics; the smartness of a hardcore capitalist at work. Talk of the ostrich's bid for self protection by merely seeking safety for its head. Obi's vulnerability in Buhari's corrective regime is incontrovertible, and APC chieftains cannot be fooled by Obi's pretenses.
I foresee reactions from people who might wish Obi' survival, post-Jonathan, advising him to retrace his steps and go make peace with Governor Obiano and the people of Anambra, else in no time nothing will be left of him but negative impressions resultant upon his betrayal of APGA and the people of the state. Valentine Obienyem should be advised to rightly project his principal in the face of the peculiar challenges that bedevil his composite economy – political and otherwise. Anambra needs all her citizens, but the guilty should be seen to be apologetic and not haughty in guilt.
Greg Ndudi, a social commentator, lives in Awka.
Disclaimer:

"The views/contents expressed in this article are the sole responsibility of

Greg Ndudi

and do not necessarily reflect those of The Nigerian Voice. The Nigerian Voice will not be responsible or liable for any inaccurate or incorrect statements contained in this article."