Jonathan to hand over to Buhari on May 28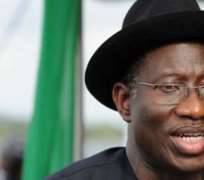 President Goodluck Jonathan will hand over power to the President-elect, Maj. Gen. Muhammadu Buhari (retd.), on May 28, about 24 hours before the actual inauguration date.
The Minister of Information,   Patricia Akwashiki, disclosed this to State House correspondents   at the end of the Federal Executive Council meeting in Abuja on Wednesday.
Akwashiki said Jonathan would perform the ceremony at a dinner on the eve of the May 29 Democracy Day.
She said, 'By May 28, the President intends to have the formal handover done at a dinner so that we can reserve May 29 for the incoming government.
'By May 28, we are expected to have concluded our own government and we are welcoming the incoming government.
'Also you know May 29 is our Democracy Day. So, we have activities lined up all through that week, showcasing all what we have achieved and all other things we do normally on our Democracy Day except that this year is special with the inauguration of our new President that is coming up on May 29.'
She added that the President had directed all Ministries, Departments and Agencies to prepare their handover notes and submit same to the Secretary to the Government of the Federation, Anyim Pius Anyim, on or before April 20.
She said it was Anyim's responsibility to compile the notes which would form Jonathan's handover document to Buhari.
She added that while the valedictory FEC meeting would hold on May 20, everything that required the President's approval must be presented to him latest on May 13 so that the incoming government would not accuse the outgoing government of rushing projects.
The minister said that Jonathan had directed the MDAs to brief him on inherited projects and the ones initiated by his administration under their jurisdiction.
She said the briefings were expected to include the status of the projects and their levels of implementation.
The minister added, 'The President emphasised on the need for all MDAs to submit their handover notes to the Office of the SGF by the 20th of this month, that is next Monday. So we are going to be very busy this weekend putting our handover notes together.
'The President also emphasised that he would require another little briefing from all MDAs to indicate inherited projects, how far they have been executed and initiated projects by his administration and the level of completion, whether completed, ongoing or abandoned.'
She said the present administration was doing everything possible to ensure a smooth transition, adding that Vice-President Namadi Sambo is heading the government's transition committee while Anyim is heading the inauguration committee. - Punch.