Kidnapped kids found naked in uncompleted building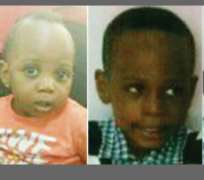 The residence of Mr. and Mrs. Leke Orekoya in Lawanson area of Surulere, Lagos State on Wednesday was thrown into convivial mood when their three kidnapped children were found at an uncompleted building in Akowonjo, Egbeda, Lagos.
How the kids were rescued remained a mystery as at press time but a close family friend told TheCitizen that they were rushed to a hospital for medical check.
While the police said the kids were abandoned in the building when the kidnappers knew police were closing in on them, a family source said that the couple paid a ransom before the kids were allowed to go.
It was further gathered that friends, relatives and colleagues in UBA Ojodu branch where their mother is working helped to raise some money to assist in meeting up with the ransom demand.
Recalling how they got the news of their kids and dashed to retrieve them, Leke said: 'Immediately we got a call yesterday evening, we went straight to Akowonjo only to discover that our children had been traumatised, badly treated and unfed.
'The three of them were all naked!
'They had no clothes, sandals on them.
'There were mosquitoes bites all over their bodies.
'Their bodies were also covered with rashes.
'We took them to Police College Hospital for treatment.
'They'll be there until the doctor discharges them.'
The children's grandfather, Elderson Adekunle Adeloko, said the abductors called the family on Tuesday to go and pick the children at Egbeda after paying a sum of money to a particular bank in Shagamu, Ogun State.
Asked how much was involved, Adeloko said the family would prefer to keep silent on that.
Adeloko advised parents against going to the internet to recruit housemaids.
His words: 'I want to advice parents, young mothers and would-be parents not to recruit from all these online advertisers.
'They are corrupt, not reliable, criminals and kidnappers have over flooded the internet.
'Before you bring any housemaid to your house, you must know her background very well, you must meet his parents or relatives one on one.'