Ghanaian UK Artiste Nsemonee Takes Ghana Music To New Level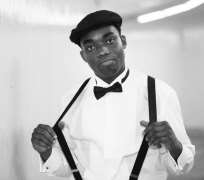 A fresh mega hit song from Ghanaian-UK based hip-life Artiste, Uncle Nsemonee, is making huge waves by all standards in the Ghana music industry and appears to have instantly won the hearts of the many hip-life fans both home and abroad.
The song also features award winning hip-life artiste and the NKZ Boss, Guru.
The 'So Me Ha Nom' video is currently the most sought after and most watched video on major entertainment channels and TVs in Ghana including 4SYTE TV, TV3, GHOne, Homebase TV among a host of others.
Watch: 'Uncle Nsemonee Ft. Guru - So Me Ha (Official Video…' on YouTube - Uncle Nsemonee Ft. Guru - So Me Ha Official Video:
We caught up with the man behind the track, Uncle Nsemonee.
He revealed that 'So Me Ha Nom' is a song mostly loved by fans because there is talent behind it and is indeed a banger and a hit song.
'I'm not amazed because that is what I have to do if I want to write my name in the books of the Angels. I made that song for people in relationship as bf gf or married couples. We always want to please each other and when your other half pleases you in a way you really enjoy you sometime s feel like building a mansion in the sky for her/ him if that was possible that was how that song came about,' Uncle Nsemonee said.
Asked why he settled on Guru to feature him, he responded that after examining the current terrain in Ghana, he felt guru was another great talent to have on the track and Kin Dee, the Engineer, recommended him too.
'So we got guru on it in Accra and later had him over here in England for the video. I have been very lucky to have a mult-million music production team behind me and is making all the dreams come true thanks to one Mr. Ian Rubery my managing director for Alpha Music production Ltd which he is a share holder we are here in the Ghana Music scene with 'So Me Ha Nom' which is available everywhere at the moment.
......We are coming to Ghana in couple of months to put out another international standard of video for a very beautiful created song also produced by kin Dee and will be available soon we have couple of projects to do while in Ghana at the moment we are touring the world promoting 'So Me Ha Nom' which features guru to Africans abroad and we will be coming home very soon to put up another beautiful project so from now till Angels die which is not very likely is all going to be Nsemonee Music,' Uncle Nsemonee revealed.
Nsemonee is a Ghanaian born musician who grew up in Ghana until the age of 14 where he moved to England, United Kingdom. He bares the real name of his dad and mum's great grandfather. Born to an Akan family on a Wednesday, he was given the name Kwaku Siaw Agyabeng Isaac, son of Mr. and Mrs. Joe Agyabeng.
He grew up in one of the poorest communities in Ghana but was a very clever and intelligent young student during his JHS and SHS days although he was very stubborn at times. Nsemonee was acquired through the struggle and hustling he went through not in terms of money but the dream he had and passion for the dream led to the name 'Nsemonee.'
'I grew up in an environment that I said to myself what are we looking for us human as I visited England at my earlier ages and then came back to Ghana and was visiting UK at least twice a year and I compared life between the two places (Ghana-UK). I could only see one thing that was worth in other words 'Money'. And this thing was seen mainly in one side but yet the people on this side where the worth is ain't all that happy and okay in life so I encouraged myself and chased my dreams'
2015-04-09 092039
2015-04-09 092139