Okowa Vs. Ogboru Juggernaut In Delta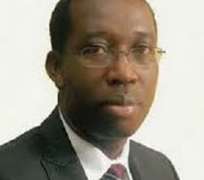 As the elections results are trickling in, it is clear that Sen. Dr. Arthur Ifeanyi Okowa, the governorship candidate of the Peoples Democratic Party (PDP), will be the next governor of Delta State. Although the Independent national Electoral Commission (INEC) has cautioned against reporting early results without INEC official results, exit polls and report from various polling units indicate that Denis Osadebe House in Asaba will still be occupied by PDP.
After the victory of All Progressives Congress (APC) at the Presidential polls two weeks back, some misguided pundits believed that the opposition APC received a new breath of life in Delta State akin to someone being resuscitated by Cardio Pulmonary Resuscitation (CPR). In fact, my fellow Urhobo kinsmen were even encouraging Chief Great Ogboru, the Labour Party governorship candidate, to step down for the APC governorship candidate, O'tega Emerhor. I even heard arguments that Ogboru was being selfish because he cannot win the election. Some even added that Ogboru will be a permanent hero of Urhobos if he could jettison his selfish ambitions and deliver an Urhobo governor in the spirit of Uviamughe declaration. Although the apex Urhobo group, the Urhobo Progress Union, may have misfired by endorsing President Goodluck Jonathan and Great Ogboru, there were last minute attempt to see which of the two Urhobo candidates will step down for the other. My understanding was that Ogboru felt he had a larger cult following albeit in the vein of a juggernaut, while Emerhor of APC felt he had a national reach as opposed to the mushroom LP without any seating governor, Senator or House of Representatives member.
Some months back, I penned an article titled "Why Urhobos should vote for Okowa." My article generated some criticisms, but my point was that Urhobos should support Okowa and wait to take over the mantle of power later.
Empirically, unbiased minds will agree that Dr. Okowa is the most qualified of all the three governorship candidates. He had been a medical Doctor, Local Government Councilor. Chairman, 3 times Commissioner, SSG and Senator. None of the other candidates in the two opposition parties could match these qualifications. Furthermore, Okowa project did not just begin yesterday. He was known as a grassroots politician with his tentacles in all three Senatorial zones.
Those of that worked assiduously for Okowa did so based on our belief in his Pan-Delta agenda with the promised Prosperity for all Deltans, anchored on the SMART agenda. It was not based on zoning, but rather our evaluation of the antecedents of the candidates and convictions about who can best pilot the affairs of Delta State and move it forward.
The victory of Okowa portends well for Delta State. Those who decamped have proven that they are fair weather persons that cannot and should not be trusted in the affairs of men. As Delta State remains a solid PDP state, we must ensure that the ubiquitous dividends of democracy are delivered to all Deltans in the next four years. Thank God for a free, fair and credible election, that has ushered in a new and continued dispensation.
*Rev. Atawa, a public affairs analyst writes from Asaba. He is also a member of Media/Publicity Committee of the State PDP Campaign Organization. Contact him on 08138391661 or [email protected],
Disclaimer:

"The views/contents expressed in this article are the sole responsibility of

Prof. Alex O. Atawa Akpodiete, Esq.

and do not necessarily reflect those of The Nigerian Voice. The Nigerian Voice will not be responsible or liable for any inaccurate or incorrect statements contained in this article."
Articles by Prof. Alex O. Atawa Akpodiete, Esq.