It's Buhari! Nigeria has decided. Buhari promised and now we wait.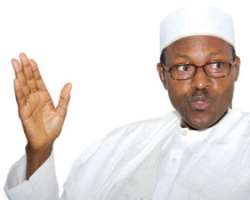 style="margin-left:-.25pt">On March 28th, 2015, approximately 9 percent (15.4 million) of the Nigerian population reasoned differently and against my personal views, voted General Buhari into the power of presidency as the 5th president of the 4th republic. Under normal circumstances this would not be enough mandate to govern but here we go anyway. I had previously, in a piece before the presidential election titled 'Let Reason Prevail Over Emotional Sentiment - This President Deserves Another Term', argued passionately on the need to allow the incumbent, president Jonathan, to continue in office for another term. To reiterate, my earlier position was without malice against the APC as a party, my problem was with the personality of the presidential candidate. In a liberal democracy, the majority will have their way but the minority will have their say. I respect the will of the majority of Nigerians who have decided that General Buhari is the man to lead us for the next four years - although I still disagree - but would want to congratulate the general on this victory. Be it rest assured that we would continue to hold your administration accountable on all promises you made to Nigerians during your campaigns.
style="margin-left:-.25pt">Let me digress a little to join world leaders and Nigerians in commending president Jonathan for conceding defeat. Anyone with good knowledge of the extent of the constitutional powers vested in the office of the Nigerian president would appreciate the heroic disposition of Mr Jonathan in accepting the result of the election. This though, did not come to me as a surprise because I have consistently maintained that president Jonathan is a highly misunderstood political figure. The man exudes excellent and refined democratic/leadership ethos alien to most Nigerians. Unfortunately, there is lack of connection on such a level which brought about it not striking a cord. For daring to highlight his virtues, I was accused of being a paid ethnic bigot - which I can confidently say I am not. It is disheartening, however, that most people have hitherto seen in Jonathan what has been clearly visible all this while. That it took this single act for many Nigerians to appreciate and extol his virtues, either points to naivety or deliberate misrepresentation.
style="margin-left:-.25pt">Pardon my skepticism, but permit it for this moment, some of your campaign promises, Mr president-elect, appear unrealistically hyped. It does cast negative perceptions as to how you intend to achieve such promises, not least in four years. It would be in your interest and that of your party, Mr president - elect, to keep your promises because broken promises hurt reputations and not lightly. It creates what psychologists call 'negative expectancy disconfirmation effect' - Nigerians may not be that forgiving in four years. Your election has generated much hope in many of my fellow citizens and they're basking in your messianic promises but beware that broken promises have the power to generate voter discontent and create backlash, which can very easily come back to haunt. To be forewarned is to be forearmed.
style="margin-left:-.25pt">I'm sure you would not misunderstand my humble submission. Granted that campaign promises are a major characteristic of every election platform, a promise made, is burdened with the responsibility of fulfilment. Mr Obama, of the United States of America, promised in 2008 to close Guantanamo Bay in Cuba, but half way into his second term this is still unfulfilled - rest assured he understands the burden of not fulfilling a promise and this does not go unforgiven by his people. Should anyone lead citizens to believe a utopian future, thereby has a duty of care to take them there.
style="margin-left:-.25pt">Despite my position Mr President - elect, I would rather that you prove me wrong so in the end Nigeria and Nigerians will be the winners. I will keep it short and now we continue the waiting game!
style="margin-left:-.25pt">God bless the Federal Republic of Nigeria.
Disclaimer:

"The views/contents expressed in this article are the sole responsibility of the author(s) and do not necessarily reflect those of The Nigerian Voice. The Nigerian Voice will not be responsible or liable for any inaccurate or incorrect statements contained in this article."
Articles by Bernard Doro