Oba Akiolu's threat to Igbos "unacceptable" – Fani-Kayode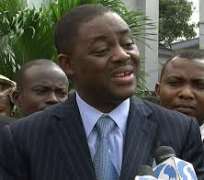 The Director of Media and Publicity of the People's Democratic Party Presidential Campaign Organisation, Femi Fani-Kayode, has described as ominous and unacceptable the threat by the Oba of Lagos against the Igbos in Lagos.
The Oba Rilwan Akiolu said that if the Igbos do not vote for the All Progressives Congress in the governorship elections on Saturday they should be "ready for the consequences".
Mr. Fani-Kayode also condemned the reported remark by the monarchs that the Igbos should be ready to "perish inside the lagoon" if they don't vote for the APC candidate, Akinwumi Ambode
"The truth is that we were threatened with ethnic cleansing and religious carnage in the north had Buhari not won the presidential election on March 28th and had President Jonathan not quickly conceded defeat.
"We let that go and kept the peace but now our traditional supporters are being threatened in Lagos and in many other states as we approach the April 11th governorship elections," Mr. Fani-Kayode said in a statement issued Monday in Abuja.
The former Aviation Minister warned the APC not to mistake the PDP's concession of defeat as weakness.
"Let two things be clearly understood. In as much as we all want peace in this country and in as much as Jonathan has graciously and quickly conceded defeat in the Presidential election, this does not mean that we are weak or powerless.
"Let it be clearly understood by all and sundry that any attempt to kill, maim or molest our supporters in the north, in the west or indeed in any other part of the country either before, during or after Saturday's governorship elections or any attempt at ethnic or religious cleansing by the APC, their supporters or their friends and agents will be deemed unacceptable and will be met with defiance, contempt and a well-orchestrated and solid resistance, " he said.
He said the APC threats must stop, pointing out that "no one is intimidated on our side and neither do we fear for the future because God is with us".
He said election is not war and urged all parties to remain "civilised, restrained, gentle and courteous in all our ways and dealings".
"We want peace and we want harmony in this country but no-one or no group of people will be allowed to turn us or our supporters into slaves or give us sleepless nights. No one will be allowed to throw our supporters "into the lagoon" and make them "perish" and neither will there be any negative consequences if they vote against the APC in Lagos or anywhere else.
"The APC would do well to remember that they only won the presidential election by 2 million votes. They got 14 million votes whilst the PDP got 12 million votes in that election. This means that we have 12 million loyal foot soldiers and supporters in this country and that is no mean feat. Those 12 million voters cannot be ignored or treated with disdain and contempt. They must and will be respected.
"We are a strong party, we are confident for the future, we are ready for anything and most important of all, we are ready for the polls on Saturday. We take this opportunity to urge the PDP faithful in Lagos to go out and vote en masse for the PDP.
"We urge them to vote for Jimi Agbaje and to free Lagos state from the shackles of darkness and oppression. We urge them to stand firm, to hold their heads up high and to do their very best.
"We urge our supporters in Rivers state, Oyo state, Imo state, Plateau state, Kaduna state and indeed in all the states where elections will take place on Saturday to do the same, to take the destiny of their respective states into their hands and to vote for the PDP candidates in the governorship elections," he said.