BAD ROADS: WHAT CAN DAGGASH DO IN 14 MONTHS?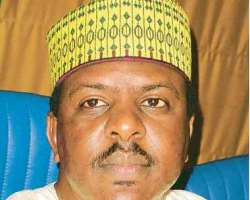 Ordinarily, the appointment of Senator Sanusi Daggash as the new minister of Works looks more like putting a round peg in a round hole. This is given his professional background as an architect.
The new minister holds three Masters degrees in Architecture, Development Planning and Public Administration from the Ahmadu Bello University Zaria, University of London, and University of Maiduguri.
Before his foray into politics , he had worked both in the public and private sectors as a professional architect and consultant.
As a member of the House of Representatives (1999-2003) and the Senate (2003-2007), he was the chairman of the Appropriation Committee. So, he appreciates that value is expected from the allocations to ministries delivering social services to the people of which works is a critical one.
However, given the deplorable condition of federal roads across the country and the short lifespan of the current administration , the Borno-born architect needs to hit the ground running.
There is no gainsaying the fact that most of the major roads in Nigeria are death, traps. Despite huge budgetary allocations to the Ministry, more than 70 per cent of the 32,400km of federal roads across the country are not okay.
In 2009, 61 projects valued at N214bn were awarded under the zonal intervention projects However, none of these projects has so far been completed, a matter which the former minister, Hassan Lawal, admitted before the Senate while defending budget proposal for 2010.
And with the rainy season just around the corner, Nigerians are worried that road users would soon be subjected to a gruesome experience due to worsening conditions of the roads.
Lawal's tenure did not only witness widespread criticisms from Nigerians owing to the slow pace of work by contractors handling various road projects across the country , there were allegations that the ministry was adept at inserting new funds for projects that had already been executed.
Also, the new Minister will have to grapple with the controversy engendered by the Federal Government's plan to concession Lagos Badagry Expressway to a private sector operator despite on going expansion works embarked upon by the state government.
Whereas the state government had begun expansion works on the 48- year -old expressway from the current four lanes to a 10-lane dual carriage expressway with provision for light rail and Bus Rapid Transit System, the Federal Government, on the other hand, has begun moves to concession the road to a private sector operator under an Public-Private Sector Partnership scheme.