Genius Creative Group Set To Launch New Record label On April 13Genius Creative Group Set To Launch New Record label On April 13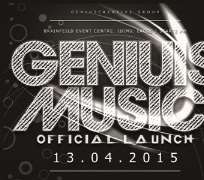 Creative Media Merchants 'The Genius Creative Group' are set to launch a New Record Label ' Genius Music ' this April.
Genius Music's Official Launch will be an exclusive Private Red carpet, Pool side music concert / party of a lifetime which is strictly by invitation.
The Mini Carnival Event Will feature Music, Dance , Comedy , And lots of freebies with Over 40 Top and fast Rising Lasgidi Artistes To Thrill The Crowd On The Mainland of Lagos . The Event Will be Holding at the prestigious Brainfield Event Centre , Lagos on April the 13th 2015 , Time : 2pm ( Prompt , No African Time).
About Genius Music
Genius Music is a new Nigerian independent label headed by consortium of Entertainment professionals and music industry insiders.
Genius Music is a subsidiary of the Genius Creative Group , a creative media company based in Lagos Nigeria which specializes in Music Production , Short Film Production , Web and software Development, Talent Management , Clothing , Animation and Graphic Design , Entertainment and events.
Genius Music Ng is a label set up with the sole aim of portraying Nigerian music to the world from a whole different dimension and the promotion of high quality music worthy of international recognition across all modern genre's , the branding , development and promotion of the next generation of Nigerian Music legends .
Our goal is to help as many raw talents as we can to further music careers ,pushing them to the extreme limits , providing them the right opportunities to help develop their craft/musicianship regardless of the Genre they represent.
Genius music is a label established by artistes for artistes and is committed to developing a world class label environment for both upcoming and mainstream music at the highest possible level , delivering the best music to every Nigerian music loving community in the world .
For Invites , Sponsorship , Partnerships and Participation Please Call 07033268460 , 08094279090 , BBM PIN : 28b6be32
Oluwadurotimi Dawodu
CEO
Genius Music